Central America, from the southern border of Mexico to the infamous Darien Gap of Panama, is a true birder's paradise. These tropical countries have much to boast about. Endemic species, important bird areas, dozens of different ecosystems and accessible birding destinations abound. Travel here is relatively effortless. There is easy access to national parks and some of the best birding sites in the world. World class guides are available who have excellent knowledge of the local bird life.

There are thousands of places to go birding in Central America. Where do we start and who has the final word on a top 10 list? It wasn't an easy task, but we have compiled a list of ten amazing birding sites spread over Central America. We feel these are must-visit places to go birding. Through eBird, we can see that all of these sites boast high biodiversity. Some have more than 400 and even 500 species recorded within their boundaries. This reflects on their incredible habitats and accessibility for birders.
Pipeline Road, Panama
Pipeline Road is a true Mecca for birders and considered one of the best birding areas on Earth!. It is located just 30 minutes from Panama City in the heart of Soberania National Park. It is one of the most easily accessible places for birding in all of Central America. You can exit the airport and start birding in less than an hour! Researchers have recorded over 450 bird species here, and some mega Neotropical species at that.
Pipeline Road is a great place to seek out Rufous-vented Ground-Cuckoo, Pheasant Cuckoo, Great Jacamar, Ocellated Antbird, Streak-chested Antpitta, Blue Cotinga, and Golden-collared Manakin. We can also hope to see up to five species of trogons, along with a multitude of wrens, flycatchers, antbirds, raptors, motmots, puffbirds, and toucans. On a good full day of birding at Pipeline Road, one can expect to see between 150-200 species of birds. Read more about Pipeline Road here. Come explore Pipeline Road with us in Panama!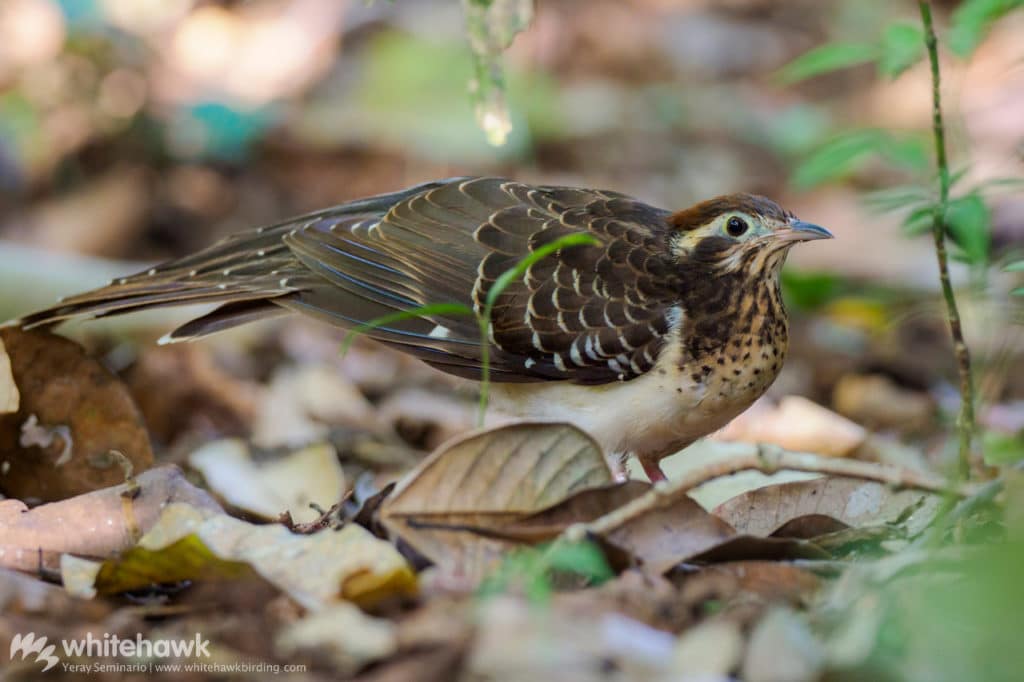 Metropolitan Natural Park, Panama
Metropolitan Natural Park is a gem for birders within the limits of Panama City. This area of protected Pacific Dry forest is home to species specific to this habitat. It is a great place to find Rosy Thrush-Tanager, Lance-tailed Manakin, Rufous-and-white Wren, Greenish Elaenia, Yellow Tyrannulet, Common Potoo and so much more. This is also the most accessible and easiest place to see one of Panama's endemic birds, the Yellow-green Tyrannulet. The park has 5 well-maintained trails that wind through different parts of the park. There is a stunning view of Panama City from a "mirador" on the top of a hill. We commonly encounter mixed flocks here – which keep birders entertained for hours on end. This park is also fantastic for butterflies. A leisurely morning here promises easy birding and dozens of species without much effort.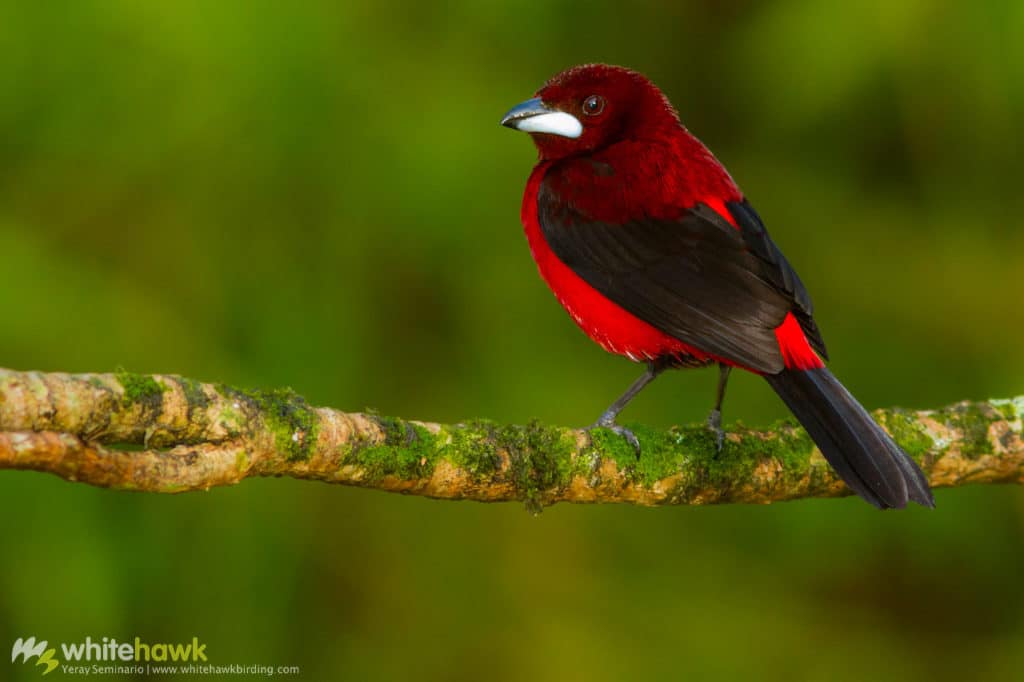 Darien National Park, Panama
For the more adventurous birders, Darien National Park is Central America's final frontier. Darien National Park is the largest national park in Central America (579,000 ha). It spans the famous "Darien Gap," the only break in the Pan-American Highway from Alaska to Tierra del Fuego. Highly biodiverse, Darien is a stronghold for endangered species such as the Great Green Macaw, Jaguar, Baird's Tapir and others. Darien's lowlands and highlands are full of range-restricted and regional avian specialties. Here we can find Dusky-backed Jacamar, Black Oropendola, Sapayoa, Viridian Dacnis, Gray-and-gold and Green-naped Tanagers, Stripe-cheeked Woodpecker, Tacarcuna Wood-Quail, Beautiful Treerunner, Pirre Chlorospingus, Pirre Hummingbird and Black-crowned Antpitta.
Furthermore, there are some iconic birds from South America that make their Central American range extensions into Darien. These include Black-capped Donacobius, Spot-breasted Woodpecker, Golden-green Woodpecker, Red-billed Scythebill, Yellow-collared Chlorophonia, Slender-billed Kite, Saffron-headed Parrot and Large-billed Seed-Finch. The possibility of new species extending their ranges into Darien is highly probable and exciting!

Recently, the most popular draw to Darien has been the opportunity to visit accessible Harpy and Crested Eagle nests. While nothing is guaranteed in nature, this is one of the best ways to see these raptors in the wild. We conduct visits to nest sites with minimal disturbance to the birds in mind. Tourism to these areas supports the local economy while allowing visitors to revel in the wonder and biodiversity of Darien. Join our Whitehawk tour, Panama: Realm of the Harpy Eagle, to seek out Harpy Eagles, Crested Eagles and other Darien specialties.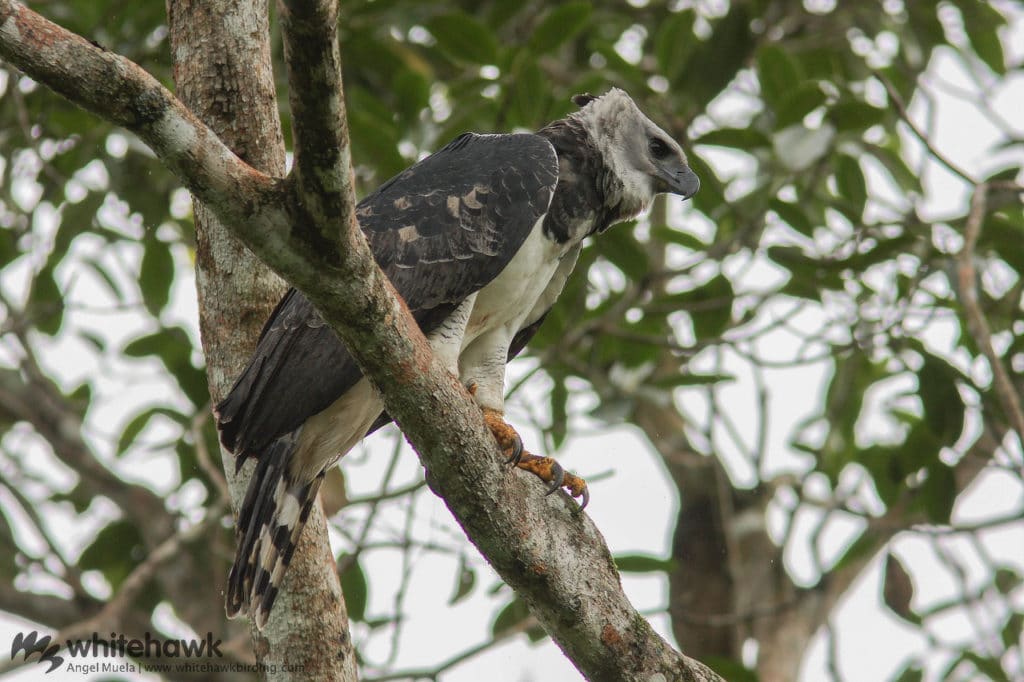 La Amistad International Park, Costa Rica & Panama
La Amistad International Park means "friendship." It stretches 407,000 hectares over the mountainous region shared between Costa Rica and Panama. The main draw for birders to this highland area is the abundance of regional endemics to the Talamanca Cordillera. Over 50 bird species are unique to this area. We can find Wrenthrush, Long-tailed Silky-Flycatcher, Chiriqui Quail-Dove, Fiery-throated Hummingbird, Costa Rican Pygmy-Owl, Prong-billed Barbet, Bare-necked Umbrellabird, Silvery-throated Jay, Black-faced Solitaire, Peg-billed Finch and Flame-throated Warbler.
Everywhere you look, you will see highland cloud forest dripping with orchids and epiphytes, draped in lush moss and green plants. The birding here is easy, birds are generally active throughout the day, and it is a fantastic place to find the Resplendent Quetzal feeding in fruiting trees. In Panama, there are many access points with great trails to explore La Amistad International Park. Our Panama: A Biodiversity Hotspot tour visits this park and the Chiriqui highlands, a must-visit place for birding in Central America!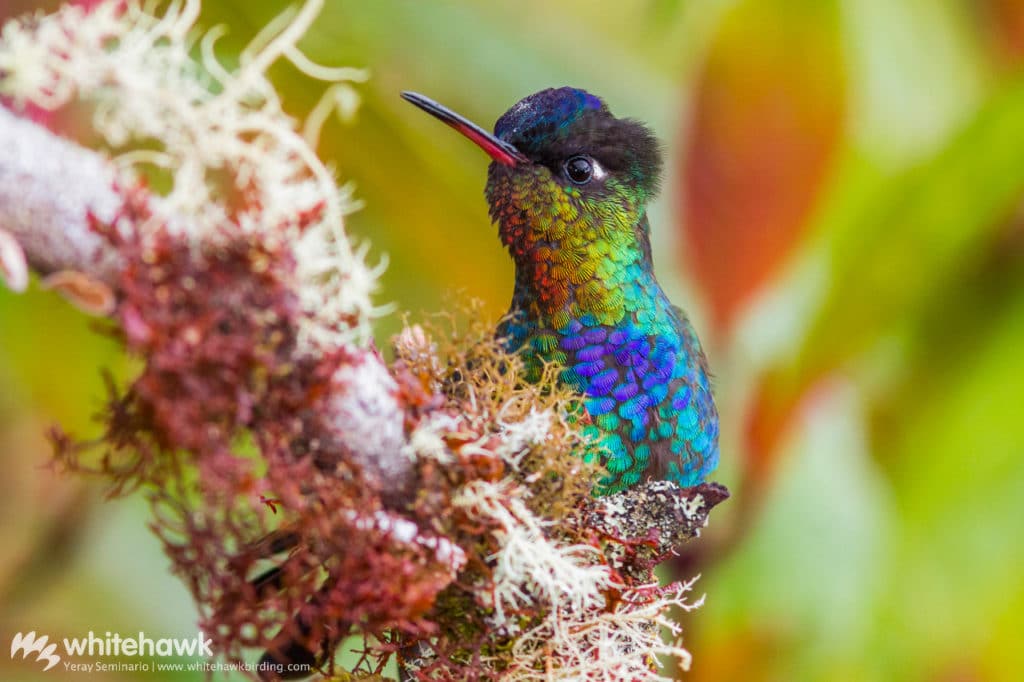 Rancho Naturalista, Costa Rica
The star of the show at Rancho Naturalista is the Snowcap, as this is the best place to find this tiny Central American hummingbird. This premier birding lodge hosts birders, photographers and naturalists alike, attracted to the area by the abundant bird life, extensive forest reserve and spectacular views of the Turrialba Volcano. Over 500 species of birds are recorded here (via eBird), which sets Rancho Naturalista as a top birding destination in Central America. The list of specialty birds here include Tawny-chested Flycatcher, Purplish-backed Quail-Dove, White-crowned Manakin, White-throated Flycatcher, Dull-mantled Antbird, Thicket Antpitta, Black-throated Wren, Black-crested Coquette, Tawny-throated Leaftosser and Gray-headed Piprites. Any of these birds would eagerly be added to any birder's life list! The lodge also has hummingbird feeders perfect for focusing on bird photography, hummingbird pools, extensive trails, and passionate birding guides, making for an all-round fantastic experience for birders.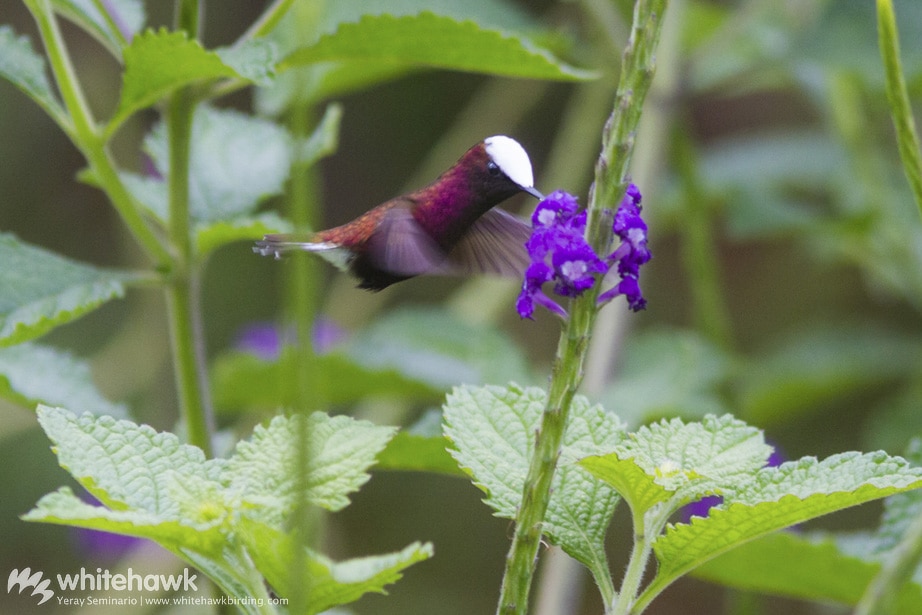 Arenal Observatory Lodge, Costa Rica
Topping the list of all birding sites in Central America for the highest number of bird species at 521, Arenal Observatory Lodge combines exquisite birding and comfortable lodging, all in view of the famous Arenal Volcano nearby. The lodge sits at a comfortable elevation of 740 meters above sea level, a perfect mid-elevation range to host both lowland and highland species, boasting high biodiversity. The variety of habitats found here, as well as well-kept gardens and trails, attracts hundreds of species of birds and makes them very accessible to birders. Some of the birds that can be expected here are Three-wattled Bellbird, Great Curassow, Crested Guan, Collared (Orange-bellied) Trogon, Montezuma Oropendola, Golden-hooded Tanager, Rufous-tailed Jacamar, Streak-crowned Antvireo, White-throated Shrike-Tanager, Crimson-collared Tanager, Pacific Screech-Owl and White-throated Magpie-Jay.
Crooked Tree Wildlife Sanctuary, Belize
Belize is a tiny country, but one full of natural wonders. Crooked Tree Wildlife Sanctuary is perhaps one of the best-known birding sites in Central America. A matrix of rivers, lagoons, wetlands, savanna and forest edge provide for a dynamic habitat with abundant birdlife throughout the year. Water levels rise and fall as the seasons change, reflecting on the bird species found there. But one can be sure there will always be birds to see. Crooked Tree is one of the best sites to find the rare Jabiru, along with Northern Jacana, Lesser Yellow-headed Vulture, Snail Kite, Ringed Kingfisher (and 4 other kingfisher species), Vermillion Flycatcher, and a plethora of waterbirds, flycatchers, wrens, raptors and others.
Birders can explore the sanctuary by boat (when water levels are adequate) or walk some of the trails that border the water's edge. Crooked Tree also has some local amenities, including lodging, restaurants and tour services. This must-visit site is a true gem for birders and definitely merits a spot in the top 10 birding sites in Central America.
Mountain Pine Ridge, Belize
The Mountain Pine Ridge in western Belize is one of the most unique habitats in Central America. Once covered with dense Caribbean Pine forests it has been heavily attacked by the Southern Pine Beetle. This event left behind a more open landscape of pines, epiphytes and other vegetation. It is a forest riddled with surprises. Pines give way to broadleaf forests and jungle, filled with freshwater pools, streams, waterfalls and caves.
Mountain Pine Ridge is a birder's paradise, especially for raptor enthusiasts. This important habitat is home to some rare and hard-to-see raptor species including Orange-breasted Falcon, Solitary Eagle, Black-and-white Hawk-Eagle, Ornate Hawk-Eagle, King Vulture, Stygian Owl, Ferruginous Pygmy-Owl, Laughing Falcon, Swallow-tailed Kite and Hook-billed Kite. Rusty Sparrow, Azure-crowned Hummingbird, Green Jay, Melodious Blackbird and Plain Chachalaca are some other species of interest found here. Additionally, the Mountain Pine Ridge is home to jaguars, ocelots, pumas, coatis, Baird's Tapir and other Neotropical fauna. Visit the Mountain Pine Ridge on our Belize: Birding in the Caribbean and Belize: Birding and Yoga tours.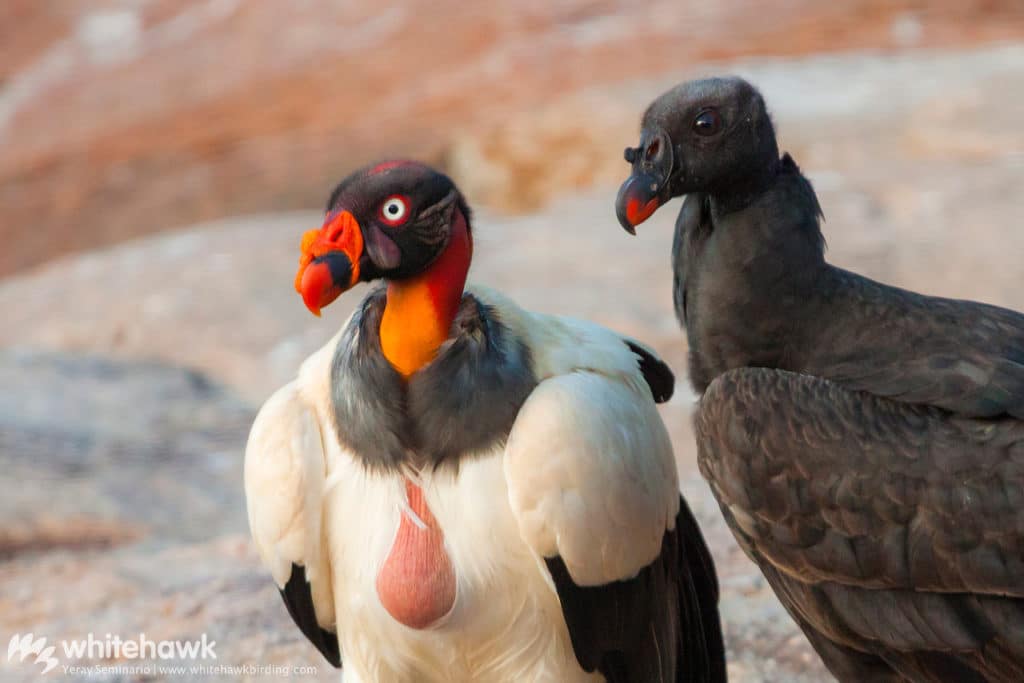 Tikal Mayan Ruins, Guatemala
Amidst the towering temples of this famous ancient Mayan city, birders can find hundreds of species of birds filling every nook and cranny of the vast rainforest of the Mayan Biosphere Reserve. Ocellated Turkeys roam the grounds. Brown Jays call raucously through the middle levels of the forest. Orange-breasted Falcon nest on the tops of the tallest temples.
Walk through the flat grounds of this historic site and you will undoubtedly see dozens of species of birds along the trails. Tikal is a great place to find some Yucatan specialties. Here we can find Yellow-winged Tanager, Yucatan Jay, Mangrove Vireo, White-bellied and Canivet's emeralds, Yellow-lored Parrot, Ivory-billed Woodcreeper, Rose-throated Tanager, Black-throated Shrike-Tanager and much more. Birding in Tikal is an excellent experience. In just one day here, you will surely add many species to your list, while also enjoying a step into the Mayan past that culminates in this area of Central America.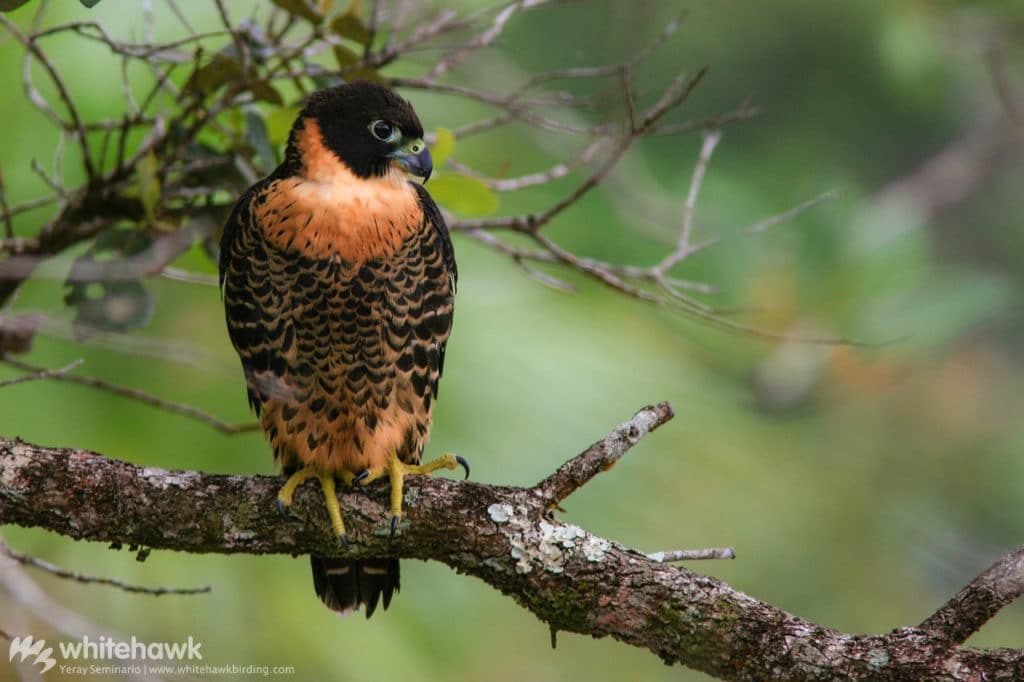 Pico Bonito, Honduras
Pico Bonito boasts one of the most luxurious eco-lodges in Central America. The lodge is settled perfectly beside the extensive national park that adorns the landscape. The bird life here nicely complements the exquisite lodging, and dozens of species can be seen around the lodge gardens. We can find Purple-crowned Fairy, Blue-gray Tanager, Collared Aracari, Keel-billed Toucan, Chestnut-colored Woodpecker, Royal Flycatcher, White-crowned Parrot and much more just a few steps from the cabins and main lodge. One of the most wanted birds to see at Pico Bonito is the Lovely Cotinga. This species frequents fruiting trees around the lodge. A platform tower with a spectacular view of a river below offers birding at canopy level. The reserve has many trails where more elusive wildlife, including Tayras, Jaguars, Margays and other rare mammals.
Well there you have it, our top 10 list of birding sites in Central America. Have you birded in all these amazing places? Ask us more about these sites and others we feel offer incredible birding in Central America and beyond.

Join us on a birding tour in Central America! Check out our list of upcoming birding tours to this amazing region.