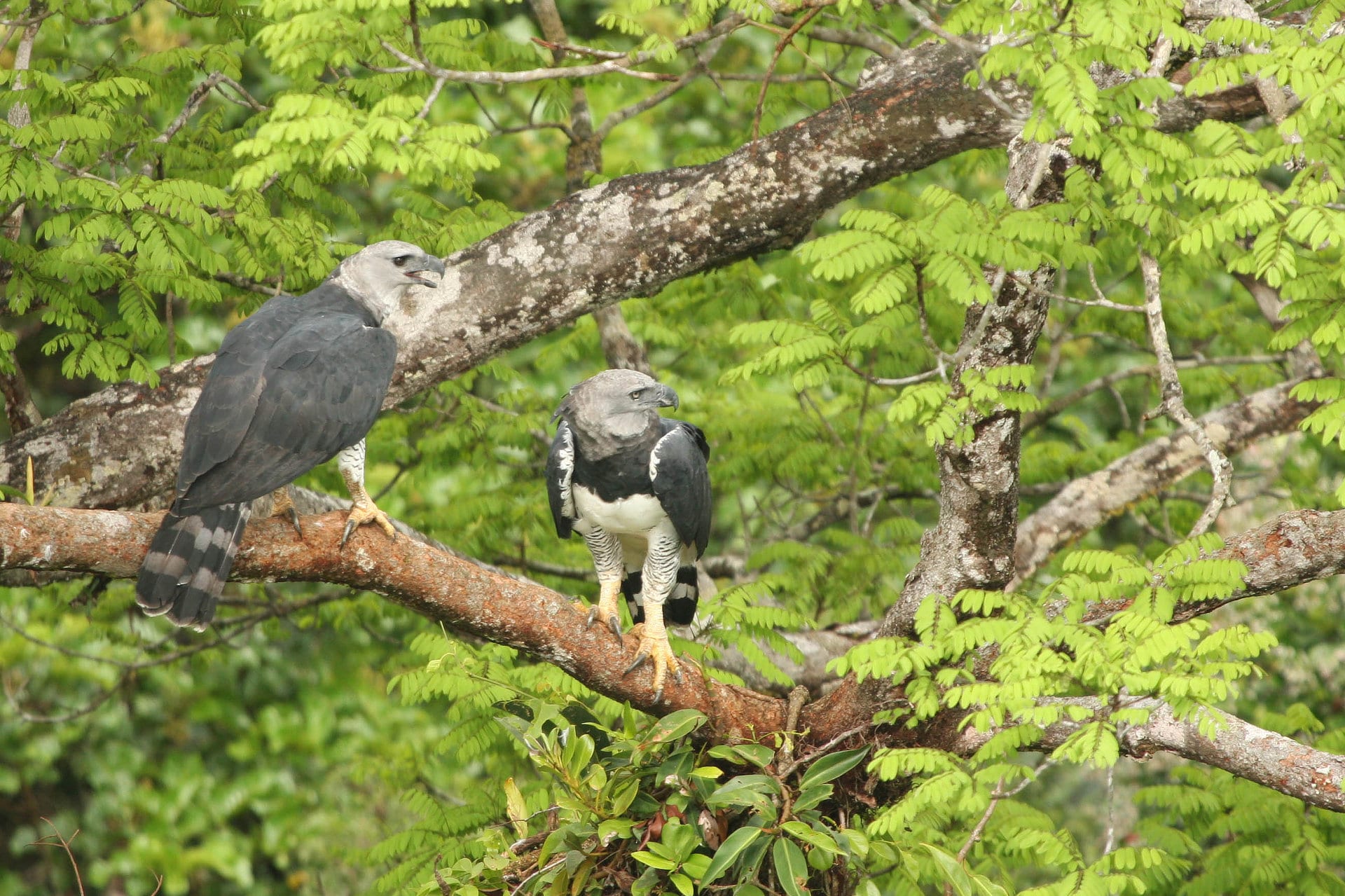 Panama: Realm of the Harpy Eagle
Next tour dates February 11-17, 2024
Duration 7 days
Lodging 2-3 stars
Difficulty Moderate
Group size Max. 8 people
Price USD $1,795 per person*
Overview
The area of Darien, Panama is one of the most biodiverse areas of the country. Pristine forest, roaring waterfalls, forest streams, and thriving ecosystems are just some of the features that make Darien such a special place for humans and wildlife alike. The indigenous Embera-Wounaan have made Darien their home for centuries, living alongside jaguars, night monkeys, tapirs, giant anteaters, and of course, the majestic Harpy Eagle.
During our Harpy Eagle tour, as we venture into this wild landscape, we will come prepared for an adventure. Riding in dug-out canoes, hiking muddy forest trails, and crossing rivers will all be part of our experience on this trip. The intrepid will be rewarded with amazing views, colorful birds, and memories to last a lifetime.
*Please note, even though this tour is designed to visit active Harpy Eagle nests, this is a wild species and we can never guarantee sightings of these birds, even at a known active nest site. For the well-being of these and all birds, we do not visit nests during the incubation period and recently after hatching, as this can create undue disturbance at a critical nesting stage. Please help us to preserve, protect, and support the birds and wildlife we are all passionate about!
Itinerary
DAY 1: ARRIVAL
To kick off our Harpy Eagle tour, you will make a short transfer from Tocumen International Airport (PTY), in Panama City to your hotel. There will be time to check in and relax before a short orientation and our first dinner together.
DAY 2: NUSAGANDI
After an early breakfast, we will leave our hotel and begin our journey towards Darien, one of the most biodiverse areas of Panama. Our first stop will be in the area of Nusagandi, a protected area of the Guna Yala indigenous people. This forest in the continental divide shields several important birds such as the rare Sapayoa and Spiny-faced Antshrike, as well as the Slate-throated Gnatcatcher, Black-crowned Antpitta, and Black-and-yellow Tanager.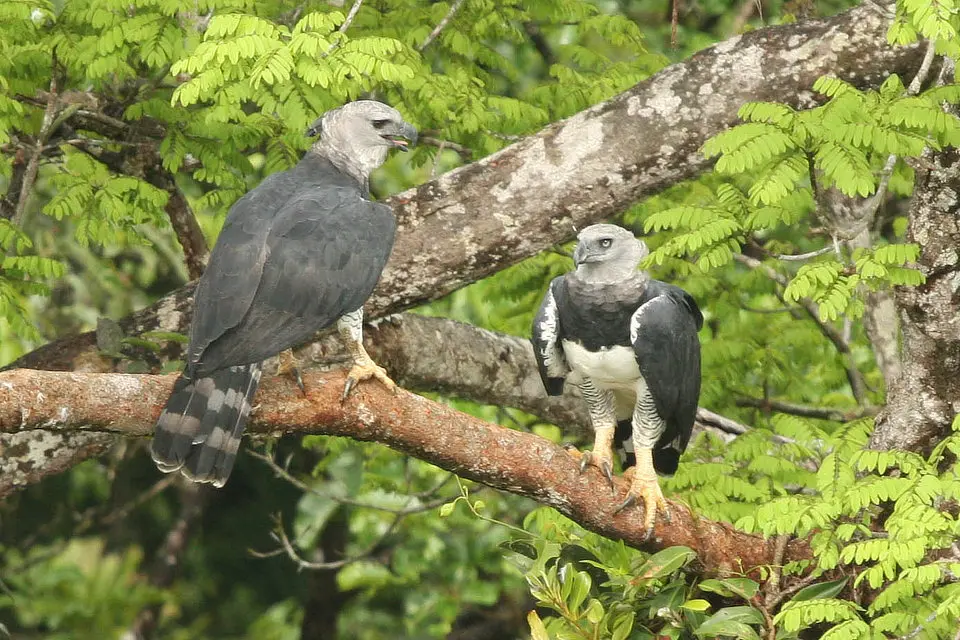 DAY 3: SAN FRANCISCO FOREST RESERVE
Today we will drive to the San Francisco Forest Reserve, a protected lowland forest and watershed. This is a great spot to search the skies for soaring raptors. With the addition of riparian habitats and agricultural fields, a diverse collection of birds can be found here, such as the endemic Yellow-green Tyrannulet, Orange-crowned Oriole, Great Jacamar, White-fronted Nunbird, Blue Ground Dove, and Spot-crowned Barbet, to mention a few. In the afternoon, we will continue east, heading to Meteti.
DAY 4: HARPY EAGLE NEST
This morning we will enter into the realm of the Harpy Eagle. We will get an early start and today's journey will include driving approximately one hour, riding in a dug-out canoe across the Chucunaque River, then hike to the Harpy Eagle nest. Please keep in mind that even though the nest will be active, we cannot guarantee that the eagles will be in sight. During our hike, several other birds can be observed including Gray-cheeked Nunlet, Yellow-breasted Flycatcher, Black Oropendola, and White-headed Wren, among others. After our time at the nest, we will return to our hotel, birding in strategic spots along the way, as time allows.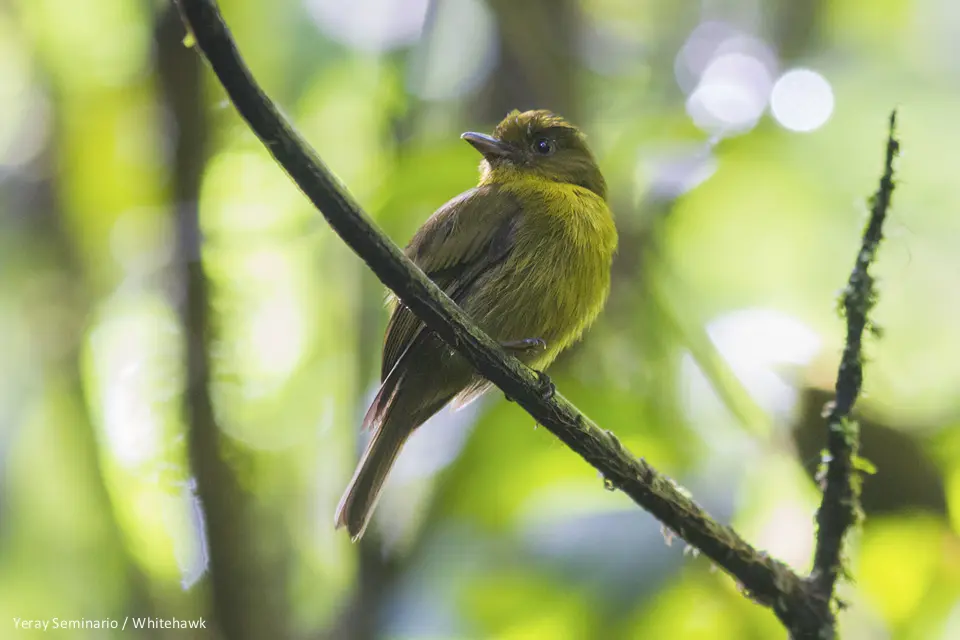 DAY 5: NUEVO VIGIA
Darien is the land of several indigenous communities. The Embera people are among them. Today, we will visit one of their villages, Nuevo Vigia. This community is surrounded by excellent bird habitat. Along the shaded trails, we will look for Red-billed Scythebill, Agami Heron, Bare-crowned Antbird, OIivaceous Piculet, and Little Cuckoo. Also, in the open areas, we hope to see the very range-restricted Dusky-backed Jacamar, Barred Puffbird, and Spectacled Parrotlet.
DAY 6: DARIEN TO PANAMA CITY
Before making our way back to Panama, we will explore another area around Meteti to get a few more of the Darien specialties. We will hope to find Golden-green Woodpecker, Chestnut-fronted Macaw, Blue Cotinga, and Double-banded Graytail.
DAY 7: DEPARTURE
After breakfast, transfer to the Tocumen International Airport for your flight home.
Our Harpy Eagle tour concludes in Panama City.
Species
BIRDS
Capped Heron
Cocoi Heron
Pearl Kite
Black-collared Hawk
Crested Eagle
Harpy Eagle
Black Hawk-eagle
Ornate Hawk-eagle
Black-and-white Hawk-eagle
Red-throated Caracara
Black-tailed Trogon
Chestnut-fronted Macaw
Spectacled Parrotlet
Little Cuckoo
Green-and-rufous Kingfisher
Great Jacamar
Dusky-backed Jacamar
Barred Puffbird
Spot-crowned Barbet
OIivaceous Piculet
Red-rumped Woodpecker
Golden-green Woodpecker
Sapayoa
Double-banded Graytail
Black-striped Woodcreeper
Spine-faced Antshrike
Jet Antbird
Bare-crowned Antbird
Black-crowned Antpitta
White-fronted Nunbird
Gray-cheeked Nunlet
Yellow-breasted Flycatcher
One-colored Becard
Blue Cotinga
Golden-headed Manakin
Golden-collared Manakin
Slate-throated Gnatcatcher
Black-and-yellow Tanager
Sulphur-rumped Tanager
Large-billed Seed-Finch
Orange-crowned Oriole
Black Oropendola
Tawny-capped Euphonia
TOUR BASICS
Guide: Edwin Campbell
Single Supplement: US$275
Lodging: Basic, comfortable and clean hotels.
Food: Local Panamanian
Weather: Hot and humid temperatures year round. Some rain can be expected, even in dry season. A jacket or sweater is recommended for evenings.
Difficulty: Medium. We will be walking on trails that may be muddy or uneven, though mostly flat. Some days will require a few hours driving on bumpy roads. Must be able to walk at least 3 kilometers. Must be able to get in and out of boats. Harpy Eagle excursion may require entry on horseback.
* Pricing is based on 6 participants. With smaller groups, an additional fee will be charged.
---
LEARN MORE
Upcoming tour dates:
February 11-17, 2024 – TOUR FULL
April 14-20, 2024
June 23-29, 2024
December 15-21, 2024

From our blog: 
What do Harpy Eagles eat?
Finding a Harpy Eagle: An Adventurous Excursion
Size of Harpy Eagle and Natural History of a Top Predator in the Rainforest