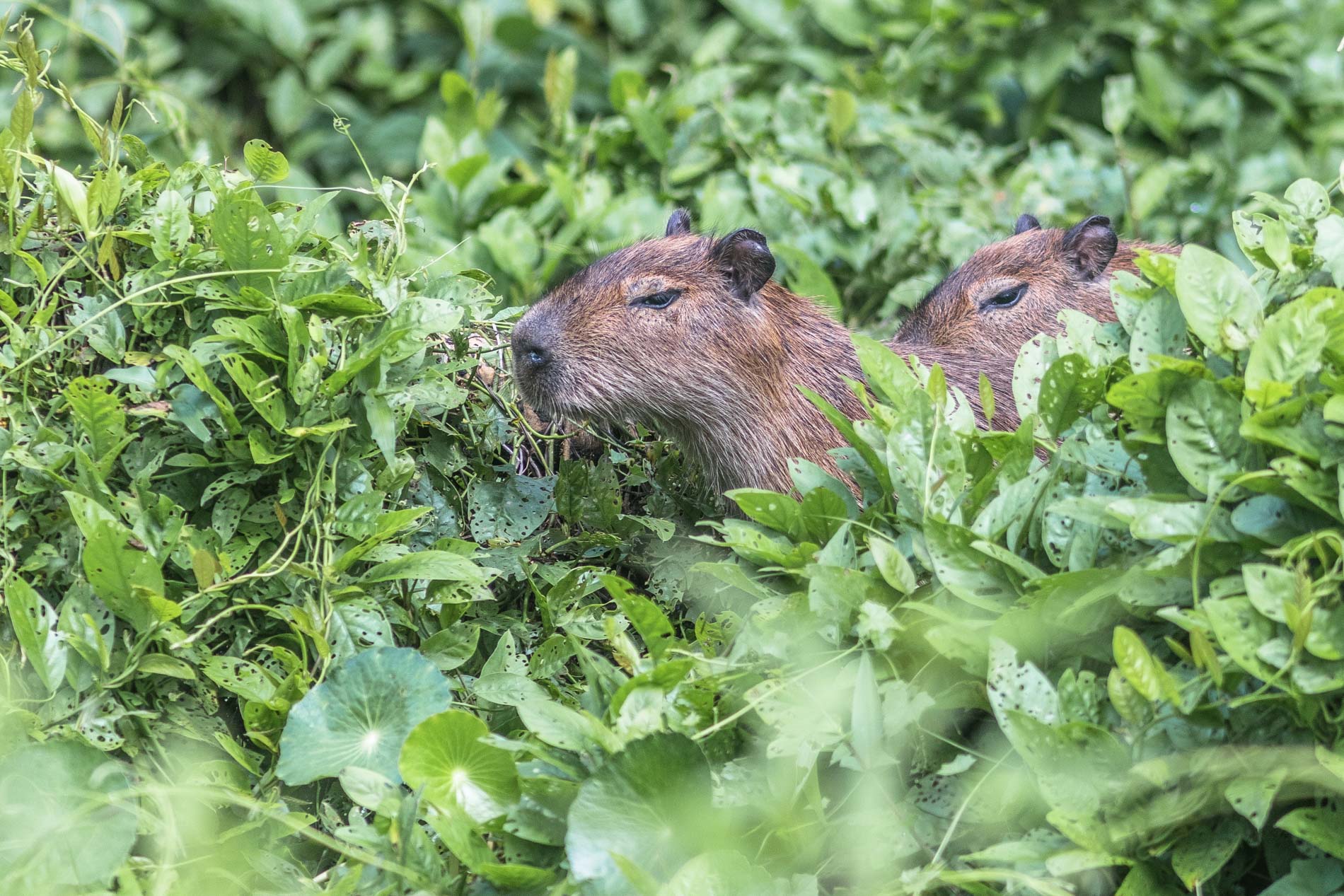 Panama Canal Boat Tours
The Panama Canal, one of the seven wonders of the modern world, is an unparalleled engineering feat. Cutting through the Isthmus, the canal spans 80 km (50 miles) and connects the Caribbean Sea with the Pacific Ocean. In 2014, Panama celebrated the 100 year anniversary of the Panama Canal and shortly after, opened a major expansion which allows transit of ships that can hold up to 14,000 containers. Gatun Lake, a large reservoir that was created in 1907 by damming the Chagres River, is a major part of the Panama Canal. These flooded lowlands provide a home to a wide variety of birds and animals. Waterbirds, kingfishers, Snail Kites, crocodiles, capybaras, monkeys and even an occasional manatee call Gatun Lake and the Panama Canal home. Our Panama Canal Boat Tours are the best way to experience the wildlife of the Panama Canal firsthand.
Why explore the Panama Canal by boat?
Being on a boat allows us to get much closer to otherwise shy wildlife, such as capybaras and Snail Kites
It offers great opportunities for photography and observing animal behavior
Get up close with enormous cargo ships and intricate sailboats in transit through the Canal
Pass through part of the historic waterway and see some Panama Canal operations in action
Our Panama Canal boat tours are ideal for families and those with limited mobility
OUR BOAT TOURS
We offer you two great options for exploring the Panama Canal and Gatun Lake:
1. Join our experienced guides and include a boat tour in one of our half or full day birding trips.
2. Enjoy a half-day general wildlife boat tour with a local naturalist guide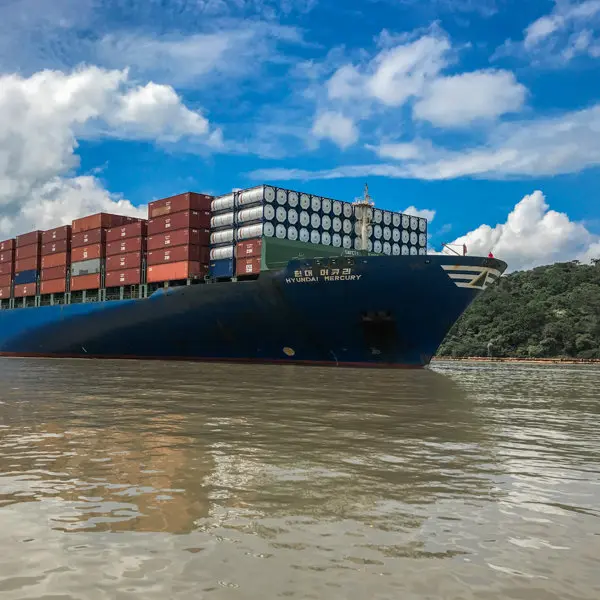 PRICING
If you would like to combine a Panama Canal boat tour with one of our day trips led by an expert birding guide, just add $175 on top of the standard prices of our Panama day trips.
For a general boat tour (3-4 hours) to see wildlife of the Panama Canal and Gatun Lake, or if you have a group, please contact us for pricing.
READ MORE!
Want to learn more about the birds and wildlife of Panama and our Panama Canal Boat Tours? Read more on our Whitehawk Birding Blog:
Birding the Panama Canal
A Neotropical Birding Mecca: Pipeline Road
Top 10 Birds of Panama
All prices are listed in US Dollars. Our Panama Canal Boat Tours include a fully personalized itinerary according to your preferences, a specialized local bird or naturalist guide, a private vehicle, transportation within Panama City, a complete list of birds and wildlife seen on the tour, and snacks (usually tropical fruits). Long-distance pick-ups outside of Panama City proper and other service are not included and can be arranged upon request. Tips for the guide and driver are not included.
**Our Panama Canal Boat Tours depart from Gamboa and explore the edges of the Panama Canal and Gatun Lake. Our tours do not transit through any of the locks.**
Inquire and book your Panama birding day trips by filling in the form below or by emailing us at info@whitehawkbirding.com. We will respond to your request within 24 hours.
WILDLIFE OF THE PANAMA CANAL
BIRDS
The Panama Canal and Gatun Lake provide excellent habitat for hundreds of species of birds. Some of the more common species we see on our Panama Canal Boat Tours include Purple Gallinule, Wattled Jacana, Gray-cowled Wood-Rail, Osprey, Mangrove Swallow, Southern Lapwing, Limpkin, Rufescent Tiger-Heron, as well as other herons, kingfishers, ibises, ducks and more. There is an abundant local population of Snail Kites in the lake. We also commonly see species that associate with forest edge and open areas, including Keel-billed Toucan, Yellow-headed Caracara, Gray-headed Chachalaca, Yellow-rumped Cacique as well as many Neotropical migrants such as Prothonotary Warbler and Northern Waterthrush.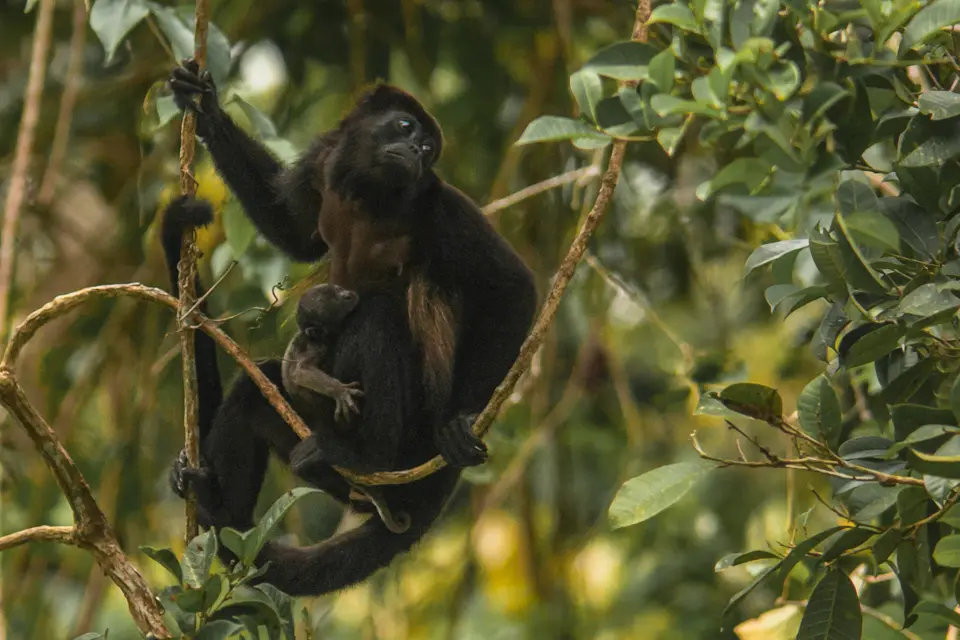 MAMMALS
During the flooding of Gatun Lake, peaks of the continental divide remained above the water levels, forming numerous islands. Mammals established permanent homes on these islands and to this day, continue to travel between them. Three species of primates – Mantled Howler, White-faced Capuchin and the squirrel-sized Geoffroy's Tamarin – are common here. Hoffman's Two-toed and Brown-throated Three-toed sloths are occasionally seen hanging in the trees at the water's edge. Proboscis Bats roost on tree trunks and exhibit excellent camouflage. Lesser Capybara, Central American Agouti, Northern Tamandua, White-nosed Coati and Red-tailed Squirrels can also be seen. A small population of West Indian Manatees live in Gatun Lake, a rare sight but with some luck you may witness one surface in still waters.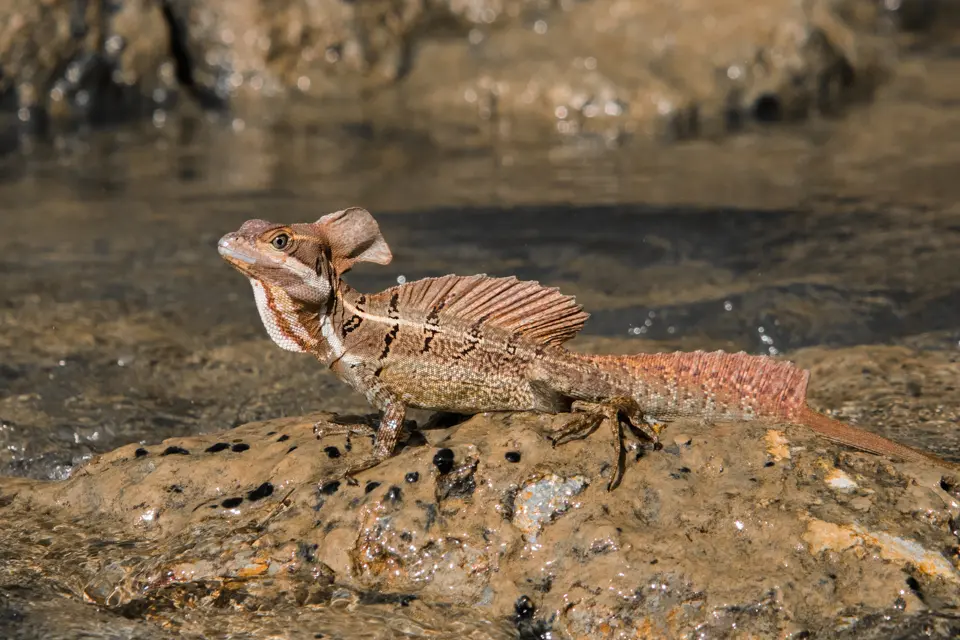 REPTILES
Reptiles thrive in these aquatic environments. American Crocodiles are seen basking along the small beaches of the Canal, some reaching up to 15 feet long! Groups of young crocodiles, some only inches long, cluster along the banks. A smaller cousin of the crocodile, the Spectacled Caiman, inhabits the waters of the Chagres River around Gamboa. Witness the unique skill of basilisk lizards as they run across the water's surface. Green Iguanas are easily spotted among tree branches, and Black River Turtles perch on logs emerging from the water. Boa Constrictor is a rare and exciting sighting here!