Panama, as you probably know from us by now, is a birding paradise. We couldn't have chosen a better place to make our home, and this small Central American country thrives with its incredible natural assets. Over 1000 species of birds have been recorded here, owing to Panama's varied habitats, elevational reaches, tropical climate and geographic position as an important migratory flyway for shorebirds, raptors and songbirds.
While it is extremely hard to choose a top 10 birds of Panama among over 1000 species found here, we thought we would take a stab at the task! We feel that these top 10 are some of Panama's most sought-after, beautiful and unique bird species. Perhaps after reading about them, you may be enticed to book a trip and come see them for yourself!
In no special order, here are what we consider Panama's top 10 birds:
Harpy Eagle
Ok, perhaps we are biased here as our entire team has worked with Harpy Eagles in Panama for some time, but we are enamored by our National Bird. The Harpy Eagle is not only one of the most powerful birds on Earth, but is graced with such incredible beauty, delicately entwined with formidable features causing our hearts to skip a beat every time we see one. Harpy Eagles are considered rare, even endangered in some places, throughout its range.
Here in Panama, the vast, highly biodiverse region of Darien in eastern panama is where Harpy Eagles roam. While sightings are never guaranteed, known nest sites in Darien give us good chances to see adults and juveniles in the wild year-round, since their breeding cycles last at least 2 years. Ask us about Harpy Eagles and join us on an exciting tour in Darien – Panama: Realm of the Harpy Eagle to see these magnificent raptors.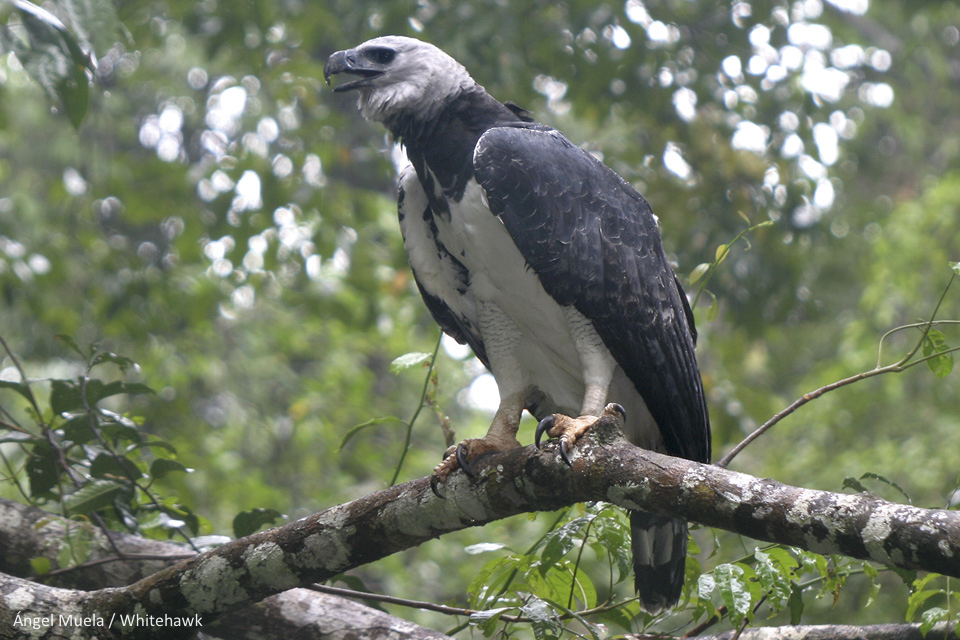 Resplendent Quetzal
Dubbed with the title of being "the most beautiful bird on Earth," the Resplendent Quetzal surely lives up to its name, and it's no surprise that it makes our top 10 birds to see in Panama list. The male's emerald-green, shimmery feathers, contrasting bright red belly, fanned crest and its most adorning feature – long, wispy feathers that trail from its lower back long past the tip of its tail – attract even the most casual passerby. This bird is truly resplendent!
We can find the Resplendent Quetzal in Panama's Chiriqui highlands. It lives in the tranquil cloud forests, feeds on little avocado fruits and nests in cavities – hard to believe it can contain its tail inside a hole in a tree (it usually sticks out of the opening!).
The best time of year to see the Resplendent Quetzal in Panama is during their breeding season from January through April, conveniently coinciding with Panama's dry season. Book a trip to see Resplendent Quetzals in Panama!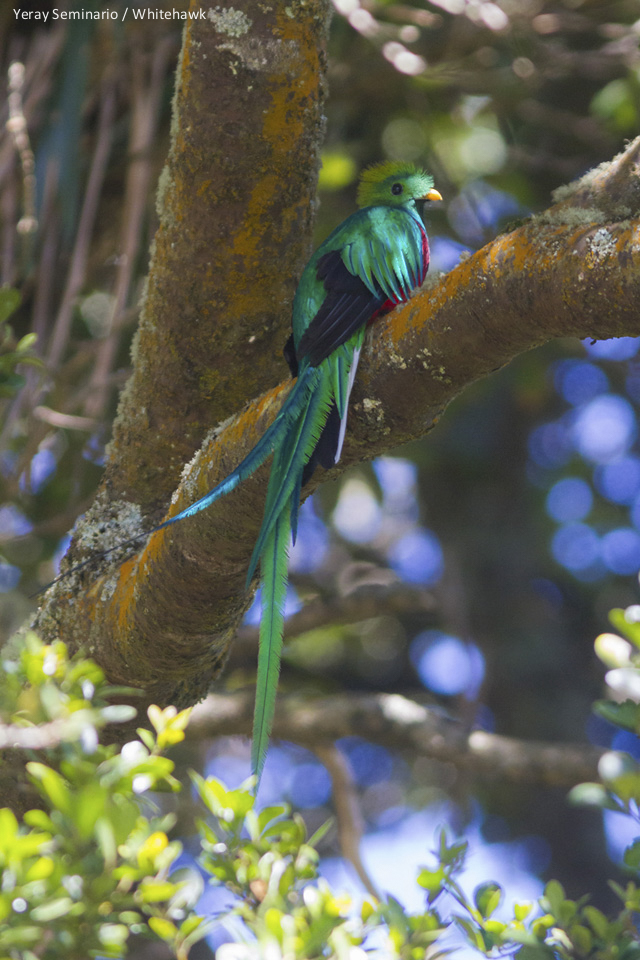 Ocellated Antbird
Of all the birds to see in Panama, for many birders, antbirds are often on the top of the list. While Panama has over 30 species of antbirds and their relatives to dazzle our sights over, there is one species that truly stands out of the crowd: the Ocellated Antbird. Its (relatively) large size, shaggy hairdo, bright blue facial skin, and ornately scalloped pattern all over its body makes this antbird a most-wanted bird to find in Panama. But there's a trick to finding them – in order to find an Ocellated Antbird, look for swarming army ants in Panama's lowland rainforests.
Ocellated Antbirds are "professional" army ant followers and are rarely found away from a swarm. A big ant swarm may have up to half a dozen Ocellated Antbirds attending it, and they dominate over all other antbird species at the swarm. Pipeline Road in Soberania National Park is an excellent place to find Ocellated Antbirds!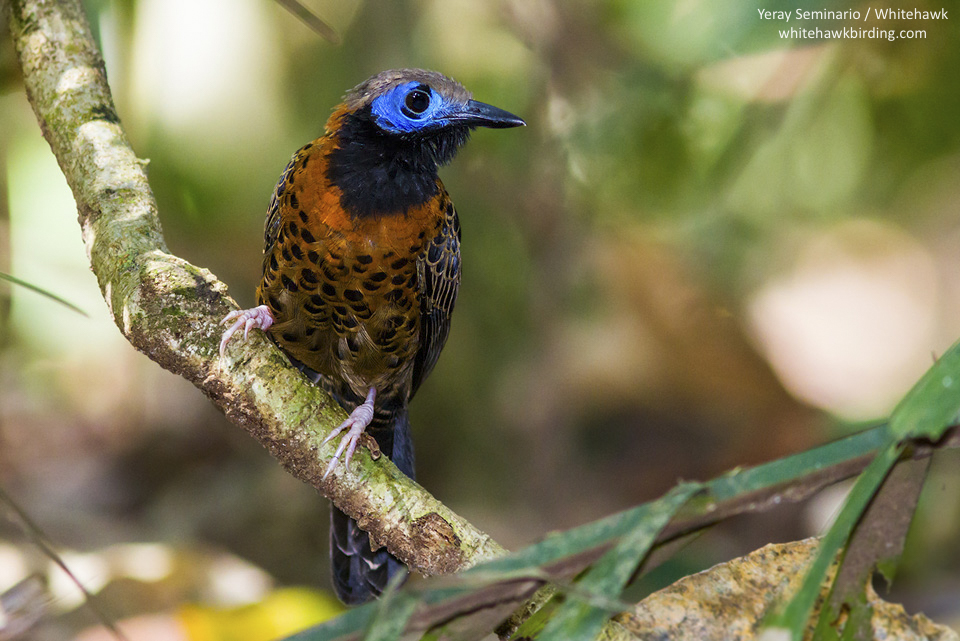 Rufous-vented Ground-Cuckoo
Searching for ground-cuckoos brings us to a whole other level of birding in the Neotropics, that relies very much on luck and good birding karma! The Rufous-vented Ground-Cuckoo, although widespread, is the "holy grail" bird to find in Panama. Never common and hard to predict, this roadrunner of the tropical rainforests attends large army ant swarms in central and eastern Panama. Like the Ocellated Antbird, it stays on or close to the ground, and eats up larger animals (small lizards, large arthropods) that army ants disturb while swarming.
Ground-cuckoos are indeed cuckoos, but on the contrary to typical cuckoo behavior, they build their own nests and raise their own young, rather than parasitizing other bird nests. There is always the possibility to see one on our Panama tours, and if lucky enough to find one, you deserve a celebratory drink at the end of the day for adding this spectacular bird to your list!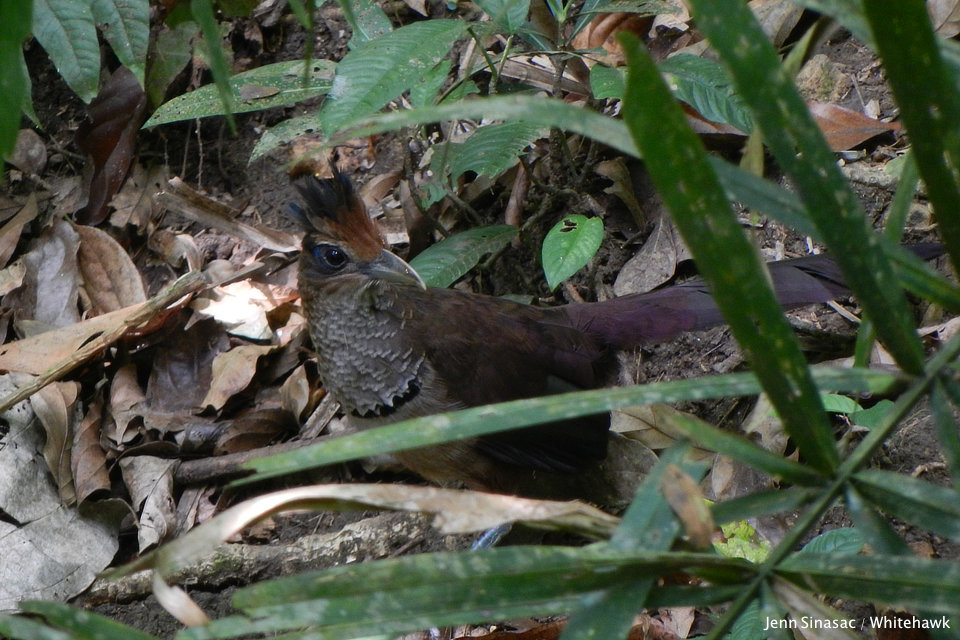 Black-crowned Antpitta
Antpitta-like in many aspects, the Black-crowned Antpitta is actually a rather remarkable member of the gnateater family, Conopophagidae. It fits the standard, antpitta "eggs with legs" appearance. And its two subspecies both have rich dark plumage and striking scalloping on their breast. We can find Black-crowned Antpittas only in Costa Rica, Panama and Colombia. This makes them a key target species in this area of the Neotropics. We can most easily detect them by their distinct songs and sharp chucking alarm calls. We can find Black-crowned Antpittas in the foothills of western and central Panama, and into the lowlands of Darién.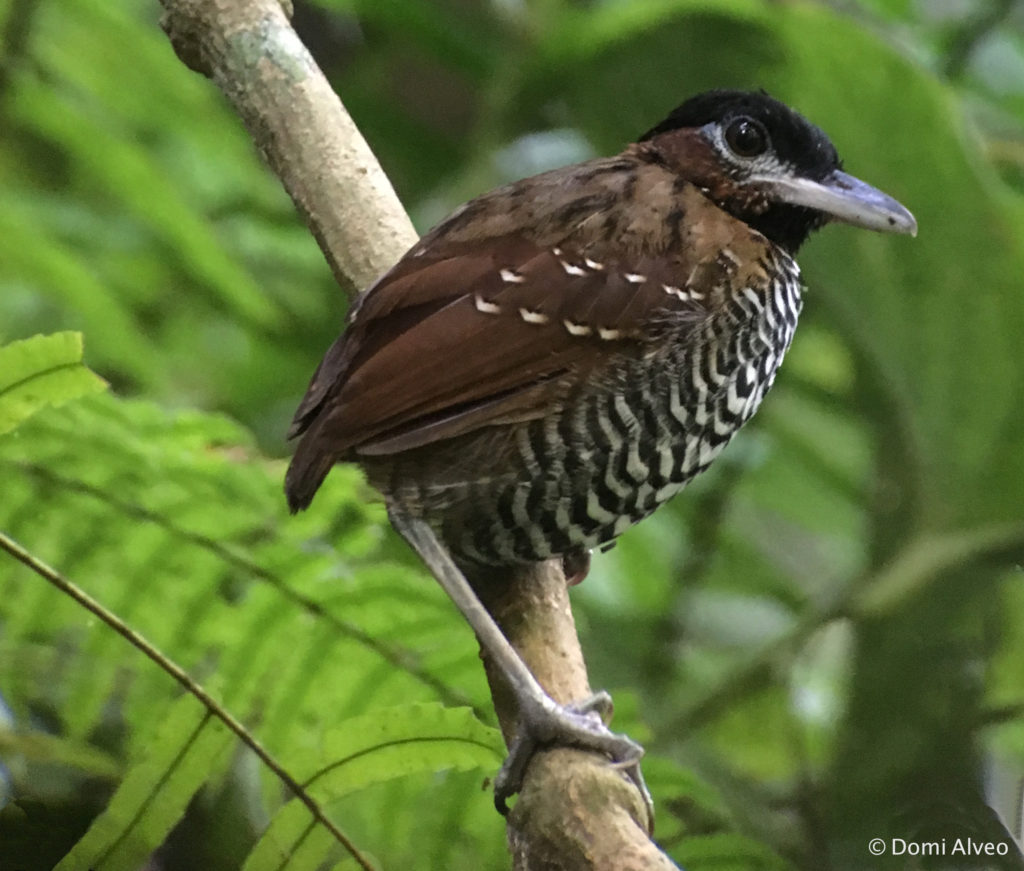 Stripe-cheeked Woodpecker
Unlike some other countries in tropical America, Panama is not known as being a hotspot for national endemics (regional endemics YES). We have a small number of endemic species, less than 10, and due to range extensions and more exploration into remote areas, some of our previously endemic species are being found in our neighbor nations. But that's ok! Birds don't have boundaries. The Stripe-cheeked Woodpecker is one of our national endemics, found only here in Panama. We can find this small, attractive woodpecker in the foothills of eastern Panama. Cerro Azul is a great place to seek out this bird.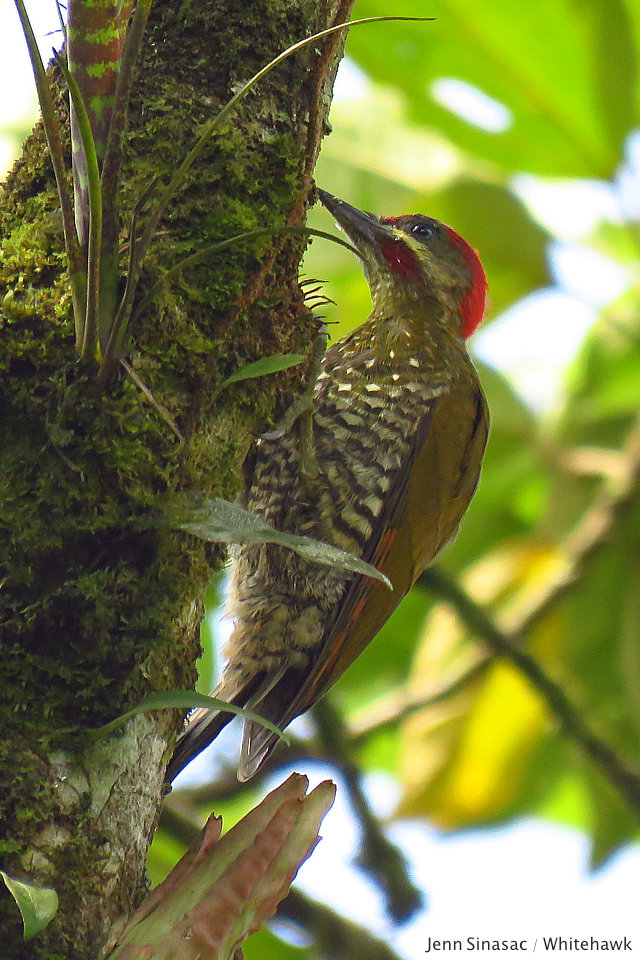 Tody Motmot
The Tody Motmot is a denizen of the dark nooks of the foothills of Central America. This motmot represents its own genus Hylomanes, and definitely stands out from the crowd within the motmot family. It is smaller and lacks the racket tips on the tail. It gets its name for its resemblance to the todies of the Caribbean. The foothill forests of El Valle de Anton, and Darién, are excellent places to find this species in Panama. It is always a most-loved bird on any of our trips where we are fortunate to see it. It is always a target on our full day trips to El Valle de Anton.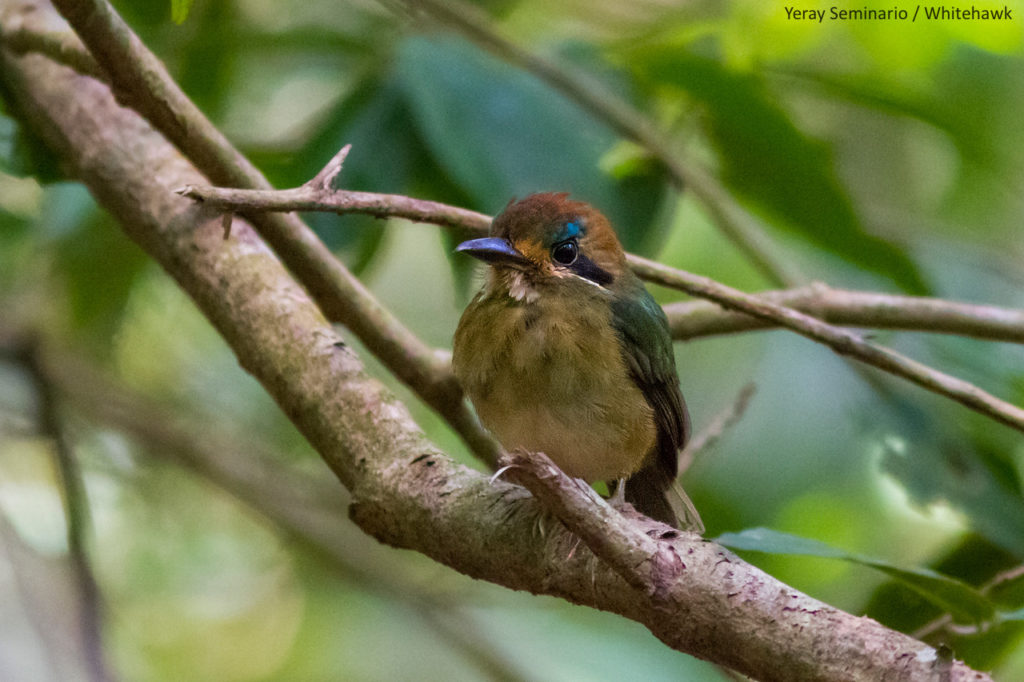 Spectacled Owl
Of all the amazing birds we have in Panama, our clients often choose the widespread Spectacled Owl as "bird of the trip." And for good reason. Its large eyes, surrounded by white "spectacles" and its piercing glare is beyond memorable! It is one of our largest owls in Panama. Luckily, we know of a few reliable roosts in some of our most popular birding areas. There, established pairs raise their young every year. They are superb subjects for bird and wildlife photographers, often allowing fairly close approach.
Sapayoa
For decades, the Sapayoa has remained a true mystery to birders and bird taxonomists. The truth is, it is nothing remarkable to look at. But its odd evolutionary history, and small global range, make it one of the most wanted birds of Panama. While it resembles a flycatcher or a manakin, ornithologists and taxonomists have long pondered over its taxonomic placement. Its closest living relatives appear to be the Old World broadbills. Researchers now generally accept to place in its own family, Sapayoidae. For birders seeking to see representatives from each family of birds, this is a number one target! Panama is perhaps one of the best places to see the Sapayoa. We most often find this species in the eastern foothills and lowlands, almost always near forest streams. Ask us about finding the Sapayoa in Panama!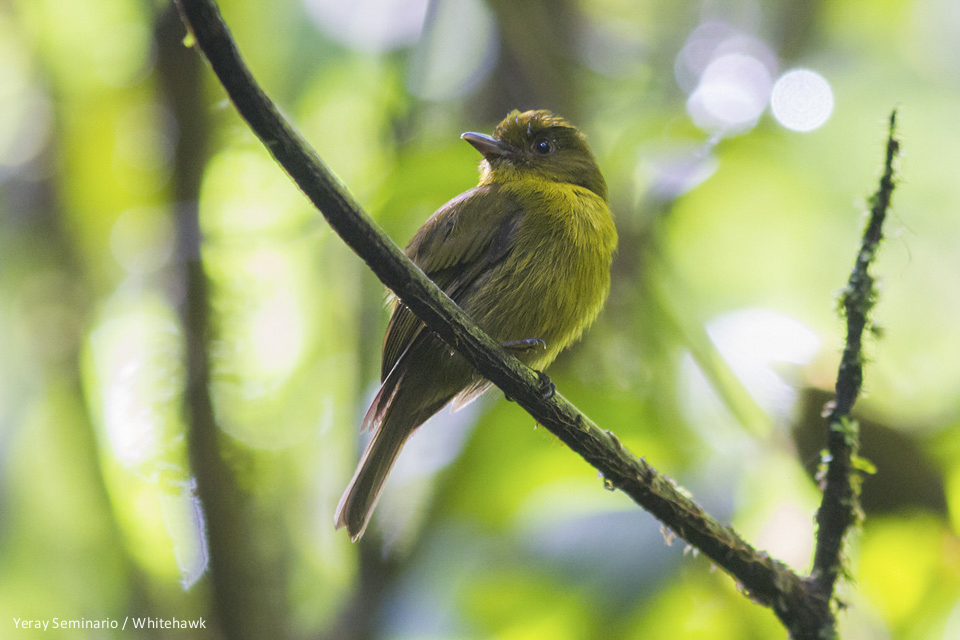 Blue Cotinga
Last but definitely not least, the Blue Cotinga definitely merits a spot on our list of birds to see in Panama. How could it not! The male's electric blue plumage is like no other. With that color it easily stands out from the crowd! Even the scalloped plumage of the dull brown female is attractive. Panama is the only place to find the Blue Cotinga in Central America. In central and eastern Panama, it is fairly common in the treetops of the lowland rainforest. Its small range to extreme northwestern Ecuador makes it a special bird to find. Blue Cotingas are usually solitary or found in small groups. They frequent fruiting trees. Seeing a male always produces an awe-inspiring reaction!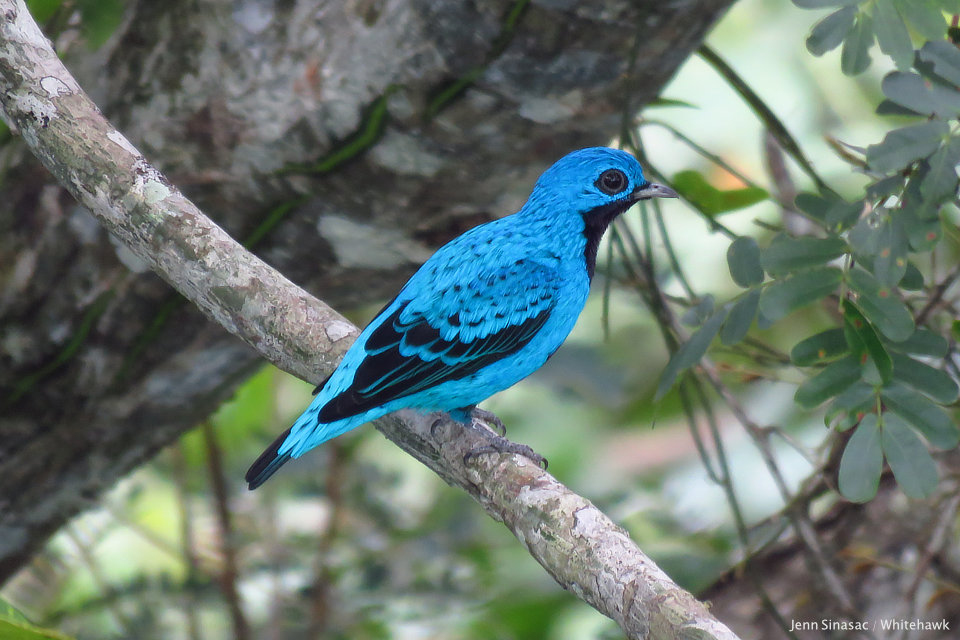 Ask us about finding these top 10 birds of Panama, and other incredible avifauna found here. Whitehawk offers tours all over the country, targeting these species and others that draw us to our beautiful country. Book your trip with us now!