Perhaps the simplest and most humorous description of antpittas is that they look like 'eggs with legs.' This description might also remind you of Sheldon, Garfield the Cat's friend, or Humpty Dumpty of "Through the Looking-Glass." In fact, Humpty Dumpty's name in Spanish is Zanco Panco. Zanco refers to his long legs, as does the name given to the antpitta family. The genus of the larger antpittas, Grallaria, which gives the family of antpittas, Grallaridae, its name, comes from the modern Latin grallarius, which means 'with stilts' (in Spanish, zancos).
What is an antpitta?
These short-tailed, upright-postured birds are unique to the Neotropics. Like the true pittas (Pittidae) of Asia, Australia, and Africa, they are elusive and difficult to see in their forest habitats. Researchers once grouped antpittas with the antthrushes (Formicariidae), but genetic studies support them as a separate family. Presumably, the prefix "ant" originates from the same consideration for placing the group with the antthrushes. But the truth is that these birds are not exclusively ant-followers; in fact, many species follow mammals moving in groups, ready to trap prey that has been disturbed by their movements. It should be noted that the Black-crowned Antpitta is a recognized ant-follower; but this species, along with the Rufous-crowned Antpitta, both of the genus Pittasoma, are unique members of the gnateater family (Conopophagidae).
The antpitta family has 55 species in four genera: Grallaria, Hylopezus, Myrmothera and, Grallaricula. Central America has only four species: Scaled, Streak-chested, Thicket, and Ochre-breasted antpittas. However, South America is the continent of the antpittas, where most species are found. They are most diverse in the Andes. Peru leads with 29 species, six of which are endemic. Colombia follows with 27 species and four endemics. But this number may change as discoveries of new species are common in these mega-diverse countries.
Manizales: City of the Antpittas
A date with the antpittas
The antpitta revolution began 15 years ago when Angel Paz, from a small town near Mindo (Ecuador) began feeding these highly desired species for birders. It certainly revolutionized the way many will see these secretive birds for the first time. His small property, Paz de Las Aves, has undoubtedly become the 'antpitta paradise.' But a few years later, other reserves emulated this practice, including the Rio Blanco Reserve in Manizales, Colombia.
Rio Blanco has encouraged other reserves near the city to set up feeding stations for different antpittas found in the region. This leaves doubts about where the actual paradise of these fascinating birds really is. In Manizales, there are currently four reserves with feeding stations. Here we can see up to nine species of antpittas. Actually, we can even say 10 antpittas in Manizales and its surroundings, if we include the less elusive Tawny Antpitta from Los Nevados National Park.
Getting the antpittas used to receiving food appears to be very easy, but part of the secret is consistency. These captivating birds are very punctual, as they lurk around waiting for their coveted food. So, if we want to see them, we must be equally timely or be prepared to return the next day. It should be noted that the antpittas will keep us busy during our stay in Manizales.
Stop 1: Finca Demostrativa Don Miguel
Our date with the antpittas begins in the municipality of Villamaria, in the small community of Rio Claro. Here, we can find the only species that lives at lower altitudes (~1600 masl) in the entire Manizales region. This 'finca' set up a feeding station for the Scaled Antpitta. Initially, the bird was accustomed to receiving food at 6:30 a.m., but now it is coming for food twice a day, again around dinner time.
A very full agenda at Rio Blanco Reserve
The Rio Blanco Reserve followed suit and pioneered attracting antpittas in Colombia. After learning about Angel Paz's practice in Ecuador, reserve officials replicated the techniques with great success. The first species that came to feed was an endemic Brown-banded Antpitta, whom they nicknamed Sofia. Five more species were habituated in this way in the reserve. This site is now an important hotspot for antpittas in Colombia.
Currently, it is possible to find four species at the feeding stations. It's no surprise that our agenda will be full in the quest for antpittas. Starting at 7 a.m., the Bicolored Antpitta will appear. Over the following hour, we will meet Chestnut-crowned and Brown-banded antpittas. Then we will have a couple of hours to take advantage of the trails of the reserve and its fantastic birds. At 10 a.m. our last meeting will be with the Slate-crowned Antpitta.
One of the stars in Rio Blanco is the Undulated Antpitta. However, it is not currently coming to any of the feeding stations. Apparently, this species has erratic behavior or exhibits seasonality. Although, on our last tour to Colombia, we were fortunate to meet this magnificent bird at the feeding station.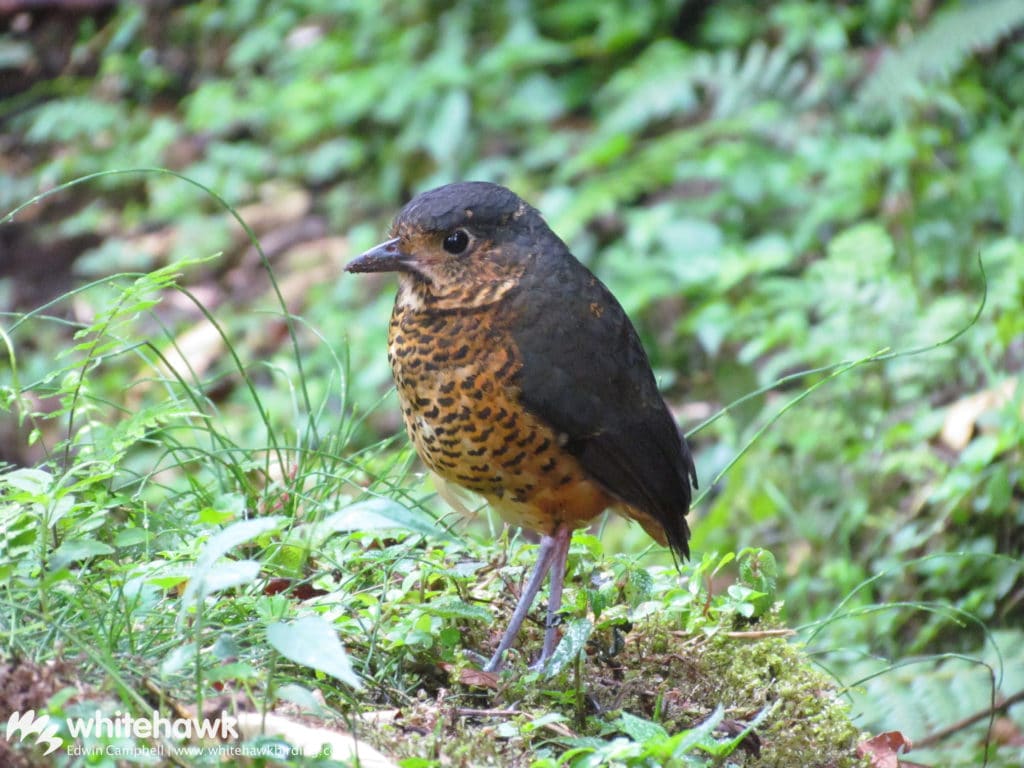 Antpitta meetings at El Color de Mis Rêves Glamping
At a similar elevation to that of Rio Blanco (2,850 masl), along the old road to Nevado del Ruiz, there is a reserve of about 3,900 hectares of cloud forest. With an early start, we must be at the first feeding station between 7 and 8 a.m. to meet an endemic subspecies of Chestnut-naped Antpitta (ruficeps). An hour later it will be time for our next appointment. In that interim, we might see a different species altogether, the Black-billed Mountain-Toucan, which may come in to feed. Between 9 and 10 a.m. we have our date with the near-endemic Bicolored Antpitta and the last meeting in this reserve is at 11:30 a.m. with the Slate-crowned Antpitta.
Hacienda El Bosque
This dairy farm has embraced nature tourism and especially bird watching. When our guide Edwin lived in Manizales, he conducted the first inventory of the birds here. He confirmed the presence of one of the most sought-after antpittas, the Crescent-faced Antpitta. This was the only antpitta in Manizales that had not yet come into a feeding station. Edwin was not wrong to suggest that this was one of the most important species for birders. It helped to promote the site as a tourist destination.
This hacienda has become one of the most popular sites for birding and bird photography. Here, two antpittas come to the feeding station. The first one is 'Juli,' a Rufous Antpitta [Equatorial Antpitta], and the appointment is precisely at 7:54 a.m. Accompanying 'Juli', 'Armando', a Gray-browed Brushfinch, also shows up to take advantage of the food offered. An hour later we have our date with the jewel of the hacienda, 'Lunita' (small moon) the spectacular Crescent-faced Antpitta.
In addition to these antpittas, other birds that come in for food at the hacienda include White-throated Quail-Dove, Andean Guan, Slaty Brushfinch, and Gray-breasted Mountain-Toucan.
Other Antpittas near Manizales
If ten species of antpittas are not enough, in less than two hours from Manizales, the Otun Quimbaya reserve offers you two more! However, none of these species visit feeding stations. It is possible to find Moustached Antpitta on the trails of the reserve. But the other species is also very punctual. We leave the lodge while still dark (~5:00 a.m.) to reach the end of the road. With a lot of patience, we wait at the roadside to see if the Hooded Antpitta appears.
New species of antpittas in Colombia
In 2017, an antpitta was observed for the first time in Farallones de Cali National Park. Initially, the biologists thought that it was a range extension of the Peruvian Antpitta in Colombia. Nonetheless, through vocal comparisons and genetic studies, they determined that it is an undescribed species! The most surprising thing about this encounter is its proximity to Cali, the third-largest city in Colombia. There is still no formal description of the species, but it is already becoming known as the 'Dancing Antpitta'.
Also, a recent study of the Rufous Antpitta complex showed some fascinating findings. Based on vocalization analysis and genetic studies, it shows that there are actually 14 different species throughout the Andean mountain range from the Caribbean coast of Colombia to Bolivia. This study recognizes five new species for Colombia:
Perija Antpitta – Grallaria saltuensis
Sierra Nevada Antpitta – Grallaria spatiator
Muisca Antpitta – Grallaria rufula
Chami Antpitta – Grallaria alvarezi
Equatorial Antpitta – Grallaria saturata
Finding antpittas with Whitehawk
If you want to get to know these birds and see them with the ease offered by feeding stations, come visit the city of Manizales with us. You will surely enjoy it. Ask us more about seeing antpittas in Colombia!