Next tour dates OPEN
Duration 16 days
Lodging 3 – 4 stars
Difficulty Easy
Group size Max. 8 people
Price USD $TBD per person*
Overview
India is the seventh largest country in the world. Its history, culture and cuisine lure travelers from all around the world – making it one of the top destinations for tourism. Though often overlooked, its abundant wildlife and beautiful landscapes also offer some amazing nature experiences for the intrepid traveler. From the high, cold peaks of the Himalayas, to the dense tropical forests of the northeast, India is a virtual mosaic of unique and wondrous habitats. It is considered a "mega diverse" country and is home to more than 13% of the world's avian species and more than 8% of its mammals.
Throughout most of the India: Birding & Tigers tour we will be exploring dry, deciduous forest, riparian and meadow landscapes as we venture into India's wilderness in search of some of the subcontinent's most unique and iconic wildlife, including some of the more than 1,300 bird species recorded for the country.
However, our main target for our tiger safari is one of the most majestic animals in the world – the Bengal Tiger.
Itinerary
DAY 1: NEW DELHI
Welcome to our exciting India tiger safari and birding tour! Upon your arrival, you will be met at the airport in New Delhi and transferred to the hotel. We will gather and after a brief introduction and orientation will head to Sultanpur bird sanctuary. Here we will get our first taste of Indian birds including hundreds of waterbirds, Sarus Crane, Spotted Owlet, Green Bee-eater, White-throated Kingfisher, Jungle Babbler, Pheasant-tailed Jacana and the range-restricted Brooks's Leaf Warbler and Sind Sparrow.
DAY 2: NAGPUR & TADOBA
This morning we hop a short flight to Nagpur, then drive (2 hours) to Tadoba National Park and check into our lodge, where we will spend the next 3 nights. After lunch, we will head out on our first jeep safari in the national park! We will spend the afternoon seeking out birds and wildlife: Asian Openbill, Crested Serpent-Eagle, Jungle Owlet, Indian Roller, Purple Sunbird and Indian Paradise-Flycatcher can be found here, and we hope to get our first glimpse at a Bengal Tiger in this protected area.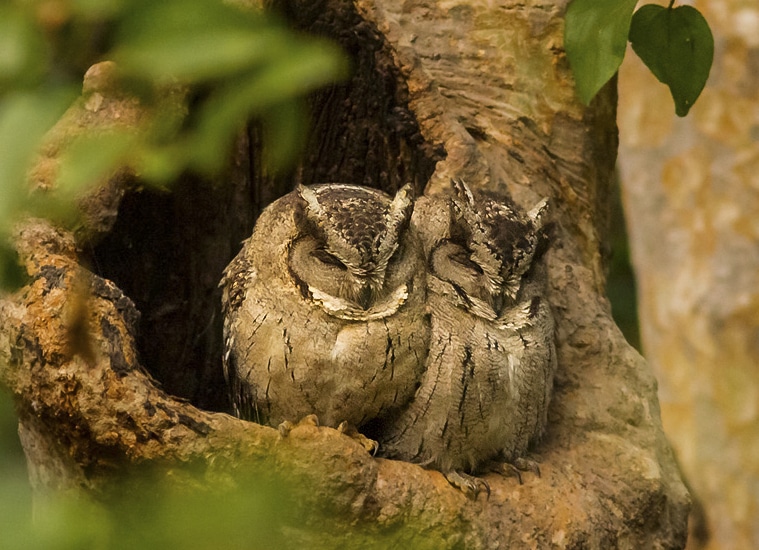 DAY 3 & 4: TADOBA
We will spend these days on our tiger safari exploring this reserve by morning and afternoon jeep safaris. Known as the Land of the Tigers, Tadoba is one of India's most revered reserves and national parks – it is composed mostly of dry deciduous forest and savanna which supports a population of 60-80 Bengal Tigers. This park is a paradise for mammal-watching – we hope to see Wild Dogs (Dhole), Leopard, Sloth Bear, Small Indian Civet, Gaur, Sambar Deer and more. Nearly 200 species of birds are found here, including Brown Fish-Owl, Orange-headed Thrush, Crested Treeswift, Bronze-winged Jacana and Black-naped Monarch.
DAY 5: TADOBA / NEW DELHI
This morning we will have a final jeep safari in Tadoba National Park. Other possible species to find here include Mottled Wood Owl, Lesser Whistling-Duck, Gray Junglefowl, Spot-breasted Fantail and Savanna Nightjar as well as Jungle Cat. After lunch we will drive to Nagpur then return to New Delhi via a short flight.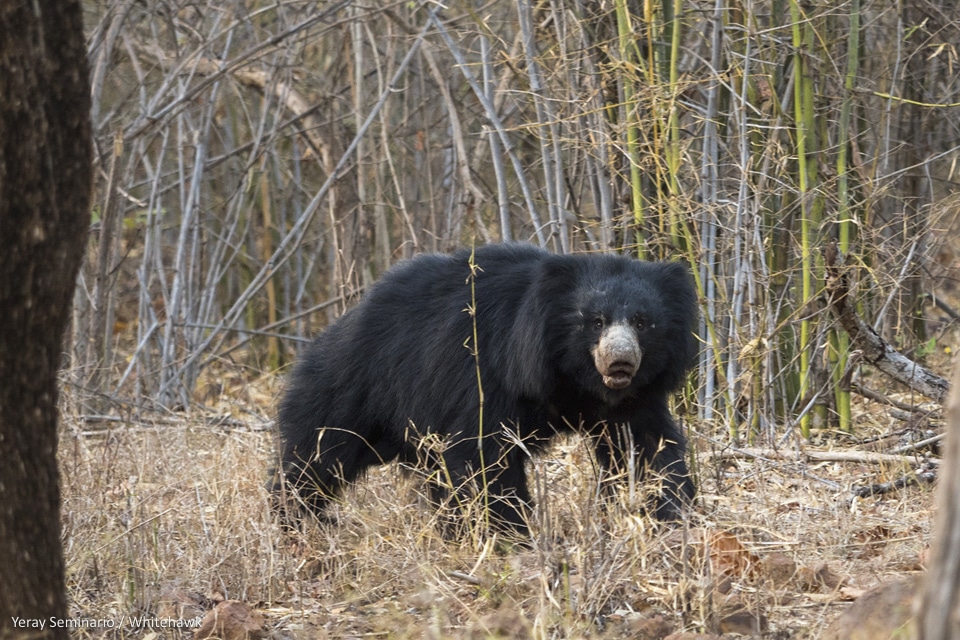 DAY 6: CORBETT NATIONAL PARK
After an early breakfast we will drive (5 hours) to Corbett National Park. Upon arrival we will immediately transfer everything into our safari vehicle for a 1.5-hour drive through the forest, where Bengal Tiger, Leopard and Asian Elephant are all possible to see. There are good chances to see Long-tailed Broadbill along the way. We will arrive at the lodge and check in. This lodge is uniquely located inside the national park and has spectacular views of the Ramganga River and the foothills of the Himalayas – the most scenic of India's national parks! An afternoon jeep safari will allow us some great looks at Kalij Pheasant, Asian Emerald Dove, Indian Cuckoo and, with some luck, Great Hornbill. Also, we will enjoy some delicious vegetarian cuisine during our stay in Corbett.
DAY 7: CORBETT NATIONAL PARK
Morning and afternoon jeep safaris in "the land of the Roar, Trumpet and Song" as this park is aptly named for its biodiversity and beauty; our excursions will give us an opportunity to see a good amount of Indian wildlife. We will explore a wide variety of peninsular and Himalayan environments. In Dhikala, we will look for great birds, such as Collared Falconet, Spot-bellied Eagle-Owl, Great Slaty Woodpecker and Pallas's Fish-Eagle.
DAY 8: CORBETT NATIONAL PARK
This morning we take another jeep safari through this area of the national park. After breakfast, we will check out and drive to the outskirts of the park, all while looking for wildlife along the road. This afternoon we will head out in safari style to another zone of Corbett, where we have good chances to see Bengal Tiger, Spotted Deer, Indian Elephant, Indian Jackal, Tawny Fish-Owl, Asian Barred Owlet, Slaty-headed Parakeet, Lesser Racket-tailed Drongo and Gray Treepie. We will spend the night in a resort outside of the park.
DAY 9: CORBETT / NEW DELHI
We will enjoy a final jeep safari in the area of either Jhirna or Dhela. The birding in both these areas is fantastic – Malabar Pied Hornbill in Dhela and Himalayan Griffons soaring overhead at Jhirna Range both make for memorable moments. Changeable Hawk-Eagle, Black Francolin, Lineated and Great barbets, Crimson Sunbird and Blue-bearded Bee-eater are all possibilities, among many others, filling our morning with birds. After breakfast we will start our drive back to New Delhi, where we will spend the night.
DAY 10: RANTHAMBHORE
Today's exciting journey starts with a train ride in comfortable berths to Sawai Madhopur station, arriving around midday, then transfer to the lodge, about a 10-minute drive. After a delicious lunch we will head out for an afternoon game drive in Ranthambhore National Park in open vehicles. Ranthambhore is considered one of the best places in the world to see Bengal Tigers in the wild.
DAY 11 & 12: RANTHAMBHORE
We will spend these two days exploring different zones of Ranthambhore National Park by jeep safari in search of tigers, birds and other fantastic Indian wildlife. With an area of 400 sq. km, Ranthambhore has a landscape of dry deciduous forests and open plains, providing important habitat for Bengal Tiger and the elusive Leopard. Some other notable mammals we will see here are Wild Boar, Striped Hyena, Chinkara (Indian Gazelle), Sambar Deer and Nilgai. Over 300 species of birds are found in this park, and we will keep our eye out for Painted Spurfowl, Gray Francolin, Brown-capped Woodpecker, Coppersmith Barbet, Spotted Owlet, Small Minivet, Jungle Bush-Quail, Crested Bunting, Indian Silverbill and much more. Exploring Ranthambhore will be a highlight of this India tiger safari and birding tour!
DAY 13: RANTHAMBHORE to BHARATPUR
On our last morning in Ranthambhore, we will head out on a final jeep safari to take in more spectacular wildlife. Later this morning we will check out of the lodge and drive 5 hours to Bharatpur, an incredibly biodiverse national park home to over 350 species of birds and is an important sanctuary for migratory waterfowl. Exploring the park by cycle rickshaws or by boat on the lake, we hope to find Bar-headed Goose, Lesser Whistling-Duck, White-breasted Waterhen, Red-wattled Lapwing, Black-necked Stork, Black-headed Ibis and Indian Pond-Heron. We will also keep our eyes open for Indian Gray Hornbill, Dusky Eagle-Owl, Sirkeer Malkoha, and with a bit of luck, Large-tailed Nightjar.
DAY 14: BHARATPUR to CHAMBAL
We will enjoy another morning of birdwatching in Bharatpur. Cinnamonand Black bitterns, White-throated Kingfisher, Indian Spot-billed Duck, Eurasian Spoonbill and Brahminy Starling are some other species we can expect to see in the bird sanctuary. By mid-morning we will drive 3 hours to our next destination – Chambal – and upon arrival check into the Chambal Safari Lodge. After lunch we will head to the banks of the Chambal River to see the impressive Gharial. We will explore the river by boat safari, as we slowly drift along the water, we will watch for River Lapwing, Great Thick-knee, Indian Skimmer, Black-bellied Tern, Painted Stork and Bonelli's Eagle, among others.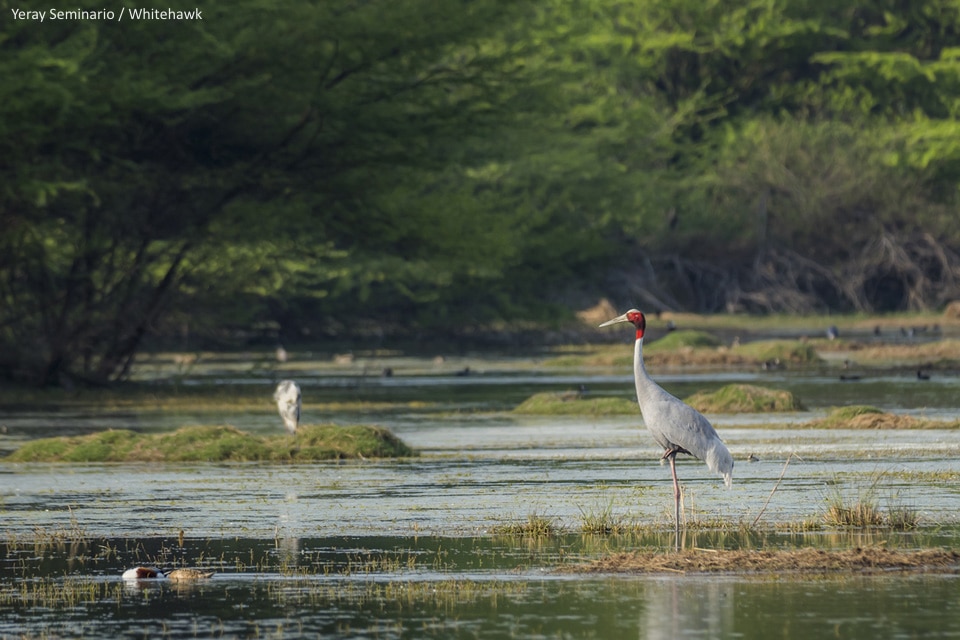 DAY 15: CHAMBAL & THE TAJ MAHAL
On our last full day, we will head out on our final jeep safari of the tour to the Sarus Crane Wetland Area. In addition to enjoying good views of Sarus Crane, we will also find Little Cormorant, Red-naped Ibis and Ruddy Shelduck. After breakfast, we will drive to Agra, home of the world-famous Taj Mahal, a UNESCO World Heritage Site. Finished in 1652, the Taj Mahal took 17 years to build with a workforce of some 20,000 laborers. As we visit this white marble mausoleum and the adjacent Taj Protected Forest, we will keep our eye open for some local birds. Black Kite, Little Swift, Bank Myna, Woolly-necked Stork, Brown-headed Barbet, Large Gray Babbler and White-browed Wagtail can all be found in this beautiful area.
This afternoon we will drive 4 hours back to New Delhi, check in at our hotel near the airport. We will enjoy our final dinner together and finalize our bird and wildlife lists.
DAY 16: DEPARTURE
After breakfast, our India tiger safari tour will conclude. We will transfer you to the Indira Gandhi International Airport for your flight home, or the hotel of your choice within New Delhi, for those continuing their adventure in India on their own.
Species
BIRDS
Gray Francolin
Painted Spurfowl
Indian Peafowl
Indian Pond Heron
Red-Headed Vulture
Indian Vulture
White-rumped Vulture
White-eyed Buzzard
Oriental Honey Buzzard
Crested Serpent Eagle
Steppe Eagle
Changeable Hawk-Eagle
Bronze-Winged Jacana
Red-Wattled Lapwing
Yellow-Footed Green Pigeon
Rose-Ringed Parakeet
Plum-Headed Parakeet
Sirkeer Cuckoo
Greater Coucal
Indian Scops Owl
Spotted Owlet
Brown Fish Owl
Crested Treeswift
Indian Roller
Stork-Billed Kingfisher
Green Bee-Eater
Malabar Pied Hornbill
Coppersmith Barbet
Brown-Capped Pygmy Woodpecker
Lesser Goldenback Woodpecker
Indian Pitta
Greater Racket-Tailed Drongo
Black Drongo
White-Browed Fantail
Black-Naped Monarch
Rufous Treepie
Red-Vented Bulbul
Jungle Babbler
Orange-Headed Thrush
Oriental Magpie Robin
Indian Robin
Red-Breasted Flycatcher
Tickell's Blue Flycatcher
Purple Sunbird
Crested Bunting
MAMMALS
Rhesus Macaque
Southern Plains Gray Langur
Indian Jackal
Jungle Cat
Bengal Tiger
Indian Leopard
Spotted Deer
Sambar Deer
Nilgai
Sloth Bear