Hummingbirds are one of the most diverse groups of birds in the New World. There are more than 345 species from Alaska (Rufous Hummingbird) to Tierra del Fuego (Green-backed Firecrown), including the Caribbean islands.
It's no surprise that the greatest number of hummingbirds are in the tropical region, including a large number in Central America. Here, we may encounter about 30% of the hummingbird species, of which 20 species can be found only in Central America. Additionally, some hummingbird genera are unique to this region, such as Panterpe (Fiery-throated Hummingbird), Microchera (Snowcap) and Elvira (Coppery-headed and White-tailed Emeralds), which have apparently diversified in this region recently. Similarly, the genus Lampornis originated in Central America and then expanded into North America, along with the Amethyst-throated Hummingbird and Blue-throated Hummingbird. Excluding these two species, the other hummingbirds of the genus Lampornis, the mountain-gems, are a mostly Central American group found only in Mesoamerica.
Which hummingbirds can you find only in Central America?
This region is home to 20 endemic Central American hummingbirds according to the Clement Checklist. Of these, only two have large ranges in the region. The tiny Snowcap delights us in the humid forests from Honduras to Panama; and we can find the Purple-throated Mountain-gem, with a smaller distribution, from the hilly areas of Nicaragua to Panama.
Other Central American hummingbirds are shared between two countries. Such is the case of the Green-breasted Mountain-gem which we can come across in both northwestern Nicaragua and Honduras. The same happens between Costa Rica and Panama with an extraordinary number of Central American endemic hummingbirds. Between these two countries are two endemic bird areas (EBAs): the Costa Rica and Panama highlands and the South Central American Pacific slope, which is home to 13 endemic hummingbirds:
Veraguan Mango
White-crested Coquette
Talamanca Hummingbird
Fiery-throated Hummingbird
White-bellied Mountain-gem
White-throated Mountain-gem
Magenta-throated Woodstar
Volcano Hummingbird
Scintillant Hummingbird
Garden Emerald
Black-bellied Hummingbird
White-tailed Emerald
Charming Hummingbird
Central American hummingbirds of a single country
Only Honduras, Costa Rica and Panama have hummingbirds restricted to their political boundaries. Costa Rica is the most favored country with two endemic hummingbirds.
Honduran Emerald – This hummingbird is the only endemic bird of Honduras. For 38 years, no one reported the species. Everyone presumed it was a forest inhabitant and no one was searching for it in the right place! However, after plotting the locations where people had collected this species in the past, biologists learned that this species inhabits dry forest and scrub, mainly arid, open-canopy deciduous thorn-forest. Thanks to this clue, researchers rediscovered six emeralds in the upper Aguan River basin in about an hour during an expedition in 1988. Since then, at least half a dozen sites of this emerald population have been discovered.
Coppery-headed Emerald – One of the members of the aforementioned Central American genus Elvira, this small hummingbird is fairly common in Costa Rica. We can find it at middle elevations on the Caribbean slope, north of the Reventazon river. It reaches the Pacific slope in the northern parts of the Guanacaste and Tilaran Cordilleras.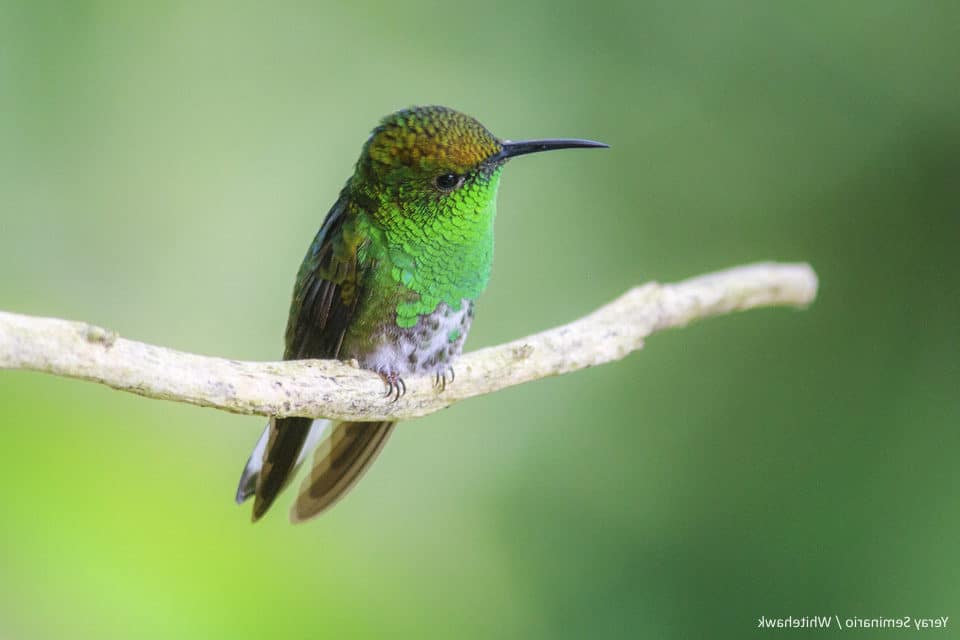 Mangrove Hummingbird – This hummingbird lives only in the Pacific coast of Costa Rica. It is mostly associated with mangrove forest. Birders have occasionally observed it in adjacent, non-mangrove habitats. It feeds primarily on the flowers of the Tea Mangrove (Pelliciera rhizophorae).
Glow-throated Hummingbird – This is a very poorly known endemic hummingbird of Panama. It has a restricted range of a small area in the Tabasara mountain range.
More endemic Central American hummingbirds by different taxonomy
If we follow the IOC taxonomy, we will gain two other endemic hummingbirds of Central America: Blue-vented Hummingbird and Gray-tailed Mountain-gem. Some taxonomic authorities, like the Clements Checklist of Birds of the World, consider these hummingbirds as subspecies. The first one is a subspecies of Steely-vented Hummingbird. We can find it from the arid zones of western Nicaragua to central Costa Rica. The Mountain-gem is endemic to the Talamanca mountain range of Costa Rica. It is the subspecies of the White-throated Mountain-gem.
This is important to keep in mind. One never knows when new research will split a subspecies into an entirely new species. This has been the case recently, when scientists split two Central American hummingbirds. They split the former Magnificent Hummingbird into Rivoli's Hummingbird and the Central American endemic Talamanca Hummingbird. Similarly, they split Green Violetear into Mexican Violetear and Lesser Violetear. We can find both species in Central America. The most curious thing of all is that Lesser Violetear has an exclusive subspecies in our region, a highland endemic from Costa Rica and Panama.
It is clear that for unrivaled hummingbirds viewing, Central America is a great destination. The fact that it is home to thirty percent of the hummingbird species and about 20 endemics is sufficient enough reason to visit this part of the world. Join us on our next birding trip to one of several Central American countries and enjoy an incredible birding experience with these little avian gems!