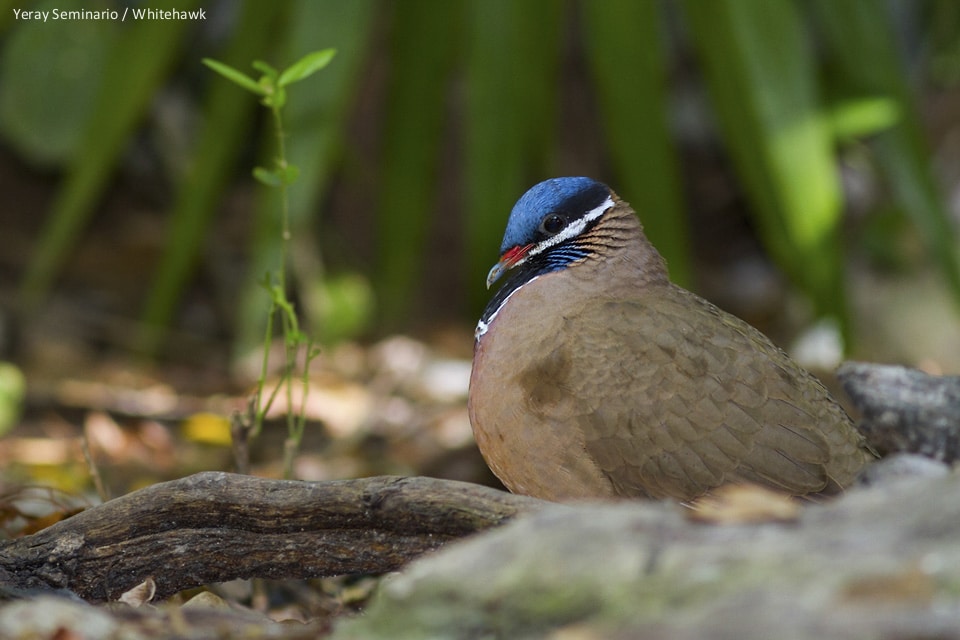 Birdwatching Cuba: Culture & Conservation
Next tour dates OPEN
Duration 11 days
Lodging 3 stars
Difficulty Easy
Group size Max. 8 people
Price USD $TBD per person*
Overview
Cuba is the largest island in the Caribbean with a population of just over 11 million people, almost a third of which live in the capital, Havana (La Habana). We will be traveling under the "Support of the Cuban People" category (a U.S. government authorized category). This will afford us the chance to learn about Cuban culture and interact with locals. Of course, the main focus of our Birdwatching Cuba: Culture & Conservation tour is to enjoy some incredible birding as we search for Cuban endemics and Caribbean specialties. Cuba is home to the Cuban Trogon, Zapata Wren, Blue-headed Quail-Dove and the smallest bird in the world, the Bee Hummingbird.
During our Birdwatching Cuba tour, we will also visit some of the best conserved nature reserves. We will exchange knowledge with Cuban biologists to learn about local conservation issues and solutions. The bird lists we generate from our sightings are uploaded to eBird. This serves as an aid in supporting knowledge of and promoting bird conservation in Cuba.
We will be mostly staying in "casas particulares," local private homes owned by Cubans during our Birdwatching Cuba tour. These stays offer a unique immersion into local family life and Cuban hospitality, while allowing us to share our own stories and experiences with locals.
Itinerary
DAY 1: HAVANA
Our Birdwatching Cuba: Culture & Conservation tour begins with your arrival in Havana and transfer from the airport. After a short briefing we will drive to the National Botanical Gardens (NBG). There, we will meet biologists from the NBG who will share with us the fascinating history of the gardens themselves. They will give us an introduction to the different ecosystems of Cuba, and some of the most relevant species of plants of the country.
The garden grounds are also an excellent place for a bird walk. Here we will search for both Cuban and regional endemics. Cuban Blackbird, Great Lizard Cuckoo, Cuban Emerald, Antillean Palm-Swift, West Indian Woodpecker, La Sagra's Flycatcher are some birds we will likely encounter. The endemic subspecies of the Eastern Meadowlark (ssp. hippocrepis) is a good candidate for a future split into a full species. We will also have the chance to see our first Cuban Kestrels. Overnight in casa particular.
DAY 2 & 3: VIÑALES
This morning we will depart from Havana with our local guide to Pinar Del Rio Province. En route, we'll visit the Las Terrazas Complex and its community before continuing on to Viñales. Viñales is a small town located in the Pinar del Rio Province. Its economy is based on agriculture, mainly tobacco farming, and is considered to have some of the richest soils in the world. During these 2 days in the Viñales Valley, a UNESCO World Heritage site, we'll see mountainous "mogotes", hard limestone mounds left over after millennia of erosion. In rural farmland, we will walk the paths through fields of tobacco and sugar cane, meeting the farmers and talking with them and their families. By visiting their homes and farms, we will learn about rural family life in Cuba.
Some of the specialities to be found in this area are Gundlach's Hawk, Cuban Trogon, Cuban Green Woodpecker. Northern (Cuban) Flicker, Fernandina's Flicker, Giant Kingbird, Yellow-headed Warbler, Cuban Bullfinch, Cuban Grassquit are also found here. Olive-capped Warbler, a species found only in Bahamas and Cuba, and the superb singer, the Cuban Solitaire, will also be on our target list for Viñales.
In the evening, we will meet Nils Navarro, an extraordinarily talented wildlife artist, illustrator and scientist. He will share and discuss his observations about conservation in Cuba. Overnight in casa particular.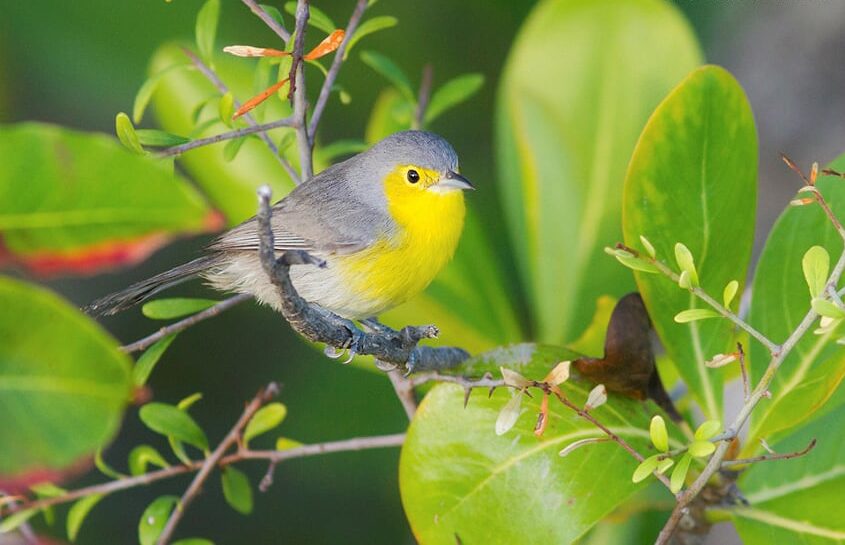 DAY 4, 5 & 6: ZAPATA PENINSULA
Today we will drive to the south of the island, the Zapata Peninsula, where we will stay for three days. The Zapata Peninsula encompasses a national park protecting Cuba's most important wetland area. It is also a UNESCO Biosphere Reserve closely resembling the Florida Everglades. Around 900 species of flora, 171 species of birds, 31 species of reptiles and many mammal species call the Zapata Wetlands home. We'll search for the world's smallest bird, the Bee Hummingbird, and meet the family working to help protect it. We will also search for localized endemics: Zapata Wren, Zapata Sparrow and Red-shouldered Blackbird. In Las Salinas de Brito we will hope to see some more local birds, like Fernandina's Flicker, Cuban Green Woodpecker, Cuban Trogon, and Cuban Tody.
Our day continues with a visit to Hondones for an exchange with the local community, an enriching cultural experience! On the Bay of Pigs, we'll discuss the importance of the wetlands with a local environmentalist. In Los Sábalos we will focus on finding ground doves, such as Blue-headed Quail-Dove, Gray-fronted Quail-Dove and Key West Quail-Dove. Once it's dark we will look for Cuban Nightjar, Stygian Owl and Bare-legged Owl. Overnight in casa particular.
DAY 7: ZAPATA TO BANAO
After breakfast, we will head east towards Banao. On our way we will stop near the town of Bermejas, to look for the Red-shouldered Blackbird. Continuing on route, we will meet biologists working in the Botanical Gardens of Cienfuegos. This is a good place to try for West Indian Woodpecker and Cuban Pygmy-Owl. On our way we will also explore a few locations in order to find Cuban Crow and Giant Kingbird.
Once in Banao, park rangers will give us an overview of the natural preserve and an introduction to conservation efforts and projects. We will then explore the river area and look for Ruddy Quail-Dove, as well as many endemic and regional endemics. The Giant Kingbird is also possible here. A night walk around the preserve can produce interesting findings. The Cuban subspecies of the Greater Antillean Nightjar(considered by some authorities as a full species – Cuban Nightjar), Cuban Pygmy-Owl and Bare-legged Owl will be our targets this evening. Overnight in Banao.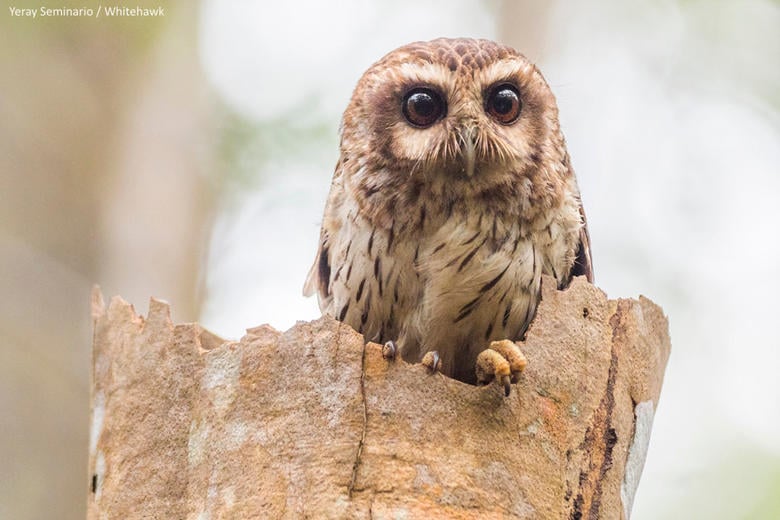 DAY 8: TUNAS DE ZAZA TO CAYO COCO
In the morning we will visit the wetlands of Tunas de Zaza. This is another highlight of the trip because of the impressive numbers of waterbirds. American Avocets, Black-necked Stilts and American Flamingos fill the mangroves and mudflats. Other birds that we can add to our list here are Merlin and Forster's Tern. After having lunch in very pleasant company, we will drive to Cayo Coco for the last part of the trip.
DAY 9: CAYO COCO
Though many visitors come to Cayo Coco for some of the finest beaches and jade-colored waters in all of Cuba, our purpose is to interact with local environmentalists. We have the opportunity here to learn from each other and observe wildlife together. We will meet new Cuban friends at the Cuban Center for Coastal Ecosystem Studies. They will share the conservation efforts on these islands and we can discuss our perspectives on similar conservation issues back home.
Next we move west to a protected area within El Baga National Park. Here we will join other naturalists exploring Cayo Coco and neighboring islands. In addition to finding Greater Flamingo, we will search for the endemic Oriente Warbler, Cuban Gnatcatcher, and the only breeding population of Thick-billed Vireo on Cayo Paredon Grande. We will also seek out other elusive species like Bahama Mockingbird on Cayo Guillermo before returning to our hotel. There will be some time to visit local artists in their studios. Our local contacts will give us background information on the area, as we experience the special nature of the region first-hand. Overnight at Melia Cayo Coco Hotel.
DAY 10: CAYO COCO TO HAVANA
Today we will make the long drive back to Havana, while making strategic stops along the way. Upon arriving to Havana and some rest, we will take a walk in the old part of the city, soaking up more culture and history. This evening we'll enjoy our last dinner in Cuba together.
DAY 11: DEPARTURE
After breakfast at our Casa Particular, we will drop you off at the Jose Martí International Airport where our Birdwatching Cuba tour will conclude.
Species
BIRDS
West Indian Whistling-Duck
Red-Breasted Merganser
Least Grebe
American Flamingo
Wood Stork
Magnificent Frigatebird
American White Pelican
Little Blue Heron
Tricolored Heron
Reddish Egret
Yellow-crowned Night-Heron
White Ibis
Roseate Spoonbill
Osprey
Snail Kite
Gundlach's Hawk (E)
Cuban Black Hawk (E)
Clapper Rail
Purple Gallinule
Limpkin
American Avocet
Wilson's Plover
Piping Plover
Northern Jacana
Red Knot
Stilt Sandpiper
Laughing Gull
Herring Gull
Black Skimmer
Scaly-naped Pigeon
White-crowned Pigeon
Blue-Headed Quail-Dove (E)
Ruddy Quail-Dove
Gray-Fronted Quail-Dove (E)
Zenaida Dove
Smooth-billed Ani
Mangrove Cuckoo
Great Lizard-Cuckoo
Bare-legged Owl (E)
Cuban Pygmy-Owl (E)
Stygian Owl
Greater Antillean Nightjar
Antillean Palm-Swift
Cuban Emerald
Bee Hummingbird (E)
Cuban Trogon (E)
Cuban Tody (E)
West Indian Woodpecker
Cuban Green Woodpecker (E)
Fernandina's Flicker (E)
American Kestrel (E Ssp)
Cuban Parrot (RE)
Cuban Parakeet (E)
La Sagra's Flycatcher
Cuban Pewee (RE)
Loggerhead Kingbird
Cuban Vireo (E)
Palm Crow (RE)
Cuban Crow (RE)
Bahama Swallow
Zapata Wren (E)
Cuban Gnatcatcher (E)
Cuban Solitaire (E)
Red-legged Thrush
Bahama Mockingbird
Oriente Warbler (E)
Cuban Grassquit (E)
Cuban Bullfinch (RE)
Western Spindalis
Zapata Sparrow (E)
Eastern Meadowlark (E Ssp)
Cuban Blackbird (E)
Greater Antillean Grackle
Shiny Cowbird
Cuban Oriole (E)
TOUR BASICS
Guide: Maikel Cañizares
Single Supplement: US$250
Lodging: We will stay in "Casas Particulares" most of the times, except for Cayo Coco, where we will stay in a hotel. Casas Particulares are houses run by regular people that rent the rooms or houses where they live.
Food: Very good traditional Cuban, in locally owned restaurants.
Weather: Generally warm and humid, with the possibility of cool evening temperatures.
Difficulty: Easy. Short walks at a gentle pace. Due to distances to cover, there will be some long drives.
* With smaller groups, an additional fee will be charged.
This comprehensive Birdwatching Cuba tour meets all legal requirements for U.S. travelers to Cuba.
---
LEARN MORE
Upcoming tour dates:
Past trip reports:
2017 Cuba Tour
From our blog:
Birds in Cuba
Bee Hummingbird: The Smallest Hummingbird in the World
Birding Cuba: Community, Culture and Conservation
Top 10 Reasons to Visit Cuba for Birders