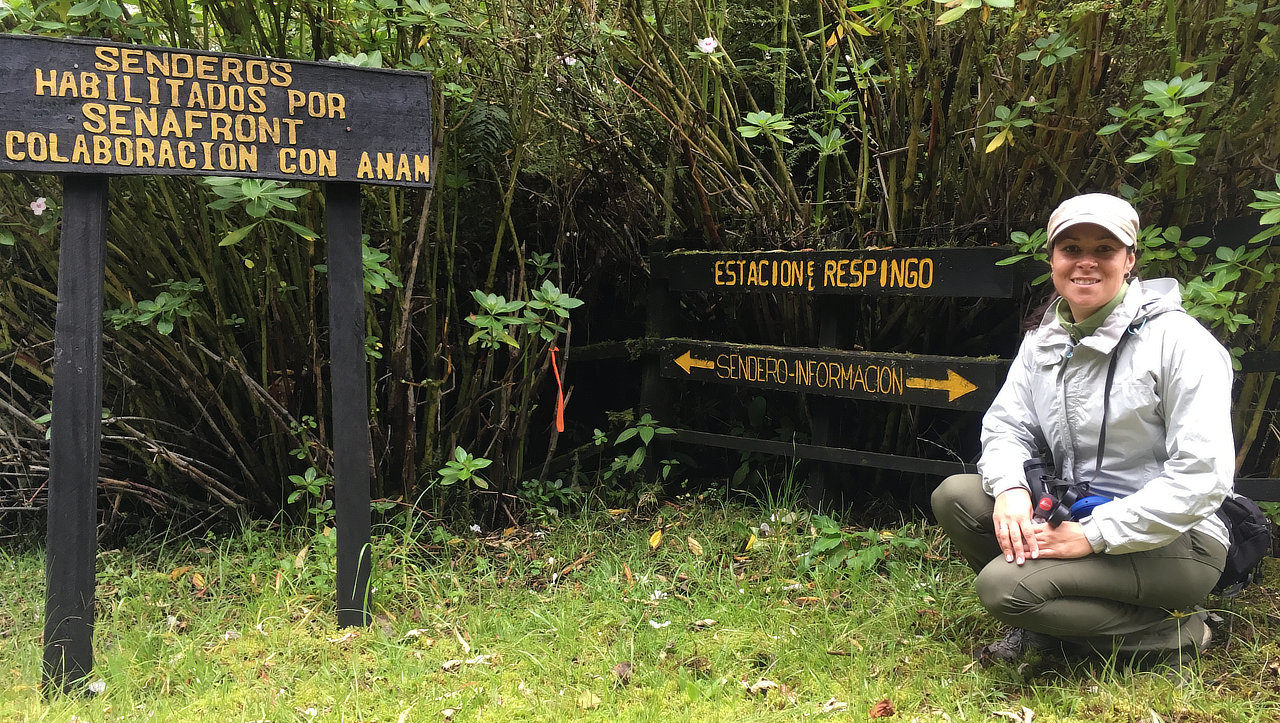 Jenn Sinasac
Jenn Sinasac has had a passion for birds and wildlife from a very young age. Growing up in Ontario, Canada, she spent her childhood outdoors. She embraced many opportunities to walk in the forest and camp in the summers. Birds quickly caught her attention. Through familiarizing herself with the local species, she was able to identify many birds in her backyard and beyond. Her interests sparked her to start working directly with birds of prey during her school years. Jenn has over 15 years of experience leading environmental education programs covering a variety of nature-based and cultural-based topics.
Jenn has a keen interest in eco-tourism. She sees great value in the connection and interaction between biology, nature and tourism. Jenn has a Bachelor's Degree in Wildlife Biology from the University of Guelph and a post-graduate certificate in Ecotourism Management from Sir Stanford Fleming College in Ontario, Canada.
Working in the Neotropics
In 2007, a 2-week volunteer trip to Peru changed her life. Following her dream to work in Latin America, Jenn has spent the last 12 years working on field projects in the Neotropics. Specializing in raptors and biological conservation, she has worked in Panama, Belize, Ecuador and Costa Rica. During her travels, she met and worked with Angel, Marta and Yeray on the Peregrine Fund's Harpy Eagle and Orange-breasted Falcon projects in Panama and Belize, respectively. Jenn also has a keen interest in butterflies. They caught her attention years ago in Canada and she carried this interest with her into her work in the Neotropics.
In 2013, Jenn moved back to Panama and settled permanently. She joined the Whitehawk team initially at this time, assisting with the school program. She stepped into the position of operations manager and environmental educator in early 2018. In 2020, she also returned to guiding bird, butterfly and natural history tours. She has a passion for sharing her knowledge of birds and the natural world with everyone she meets and enjoys learning something new every day.
Jenn lives with her partner, Domi, and their young daughter Bianca. Together they enjoy birding, spending time outdoors and traveling. Jenn is an avid eBirder and takes note of birds and behaviors she observes in the field. Over the past few years, she has had American Kestrels nesting in a nest box in her backyard in Panama, as a part of the American Kestrel Partnership. Since kestrels sparked her interest and have been a favorite bird of hers since she was a child, this has been a source of pure joy in her life!