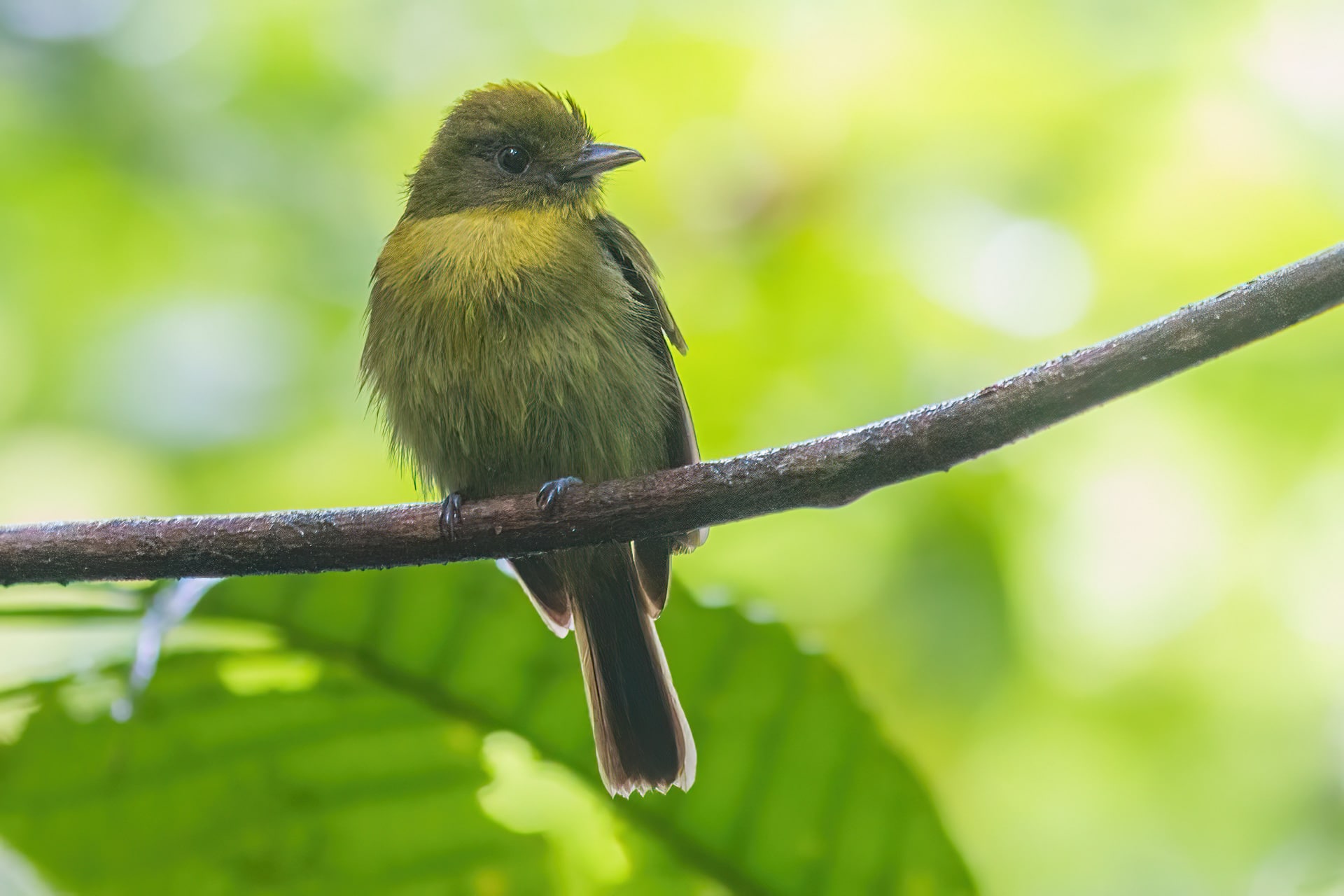 Panama's Rarest Birds: Off the Beaten Path Birding Tour
Next tour dates CONTACT US
Duration 17 days
Lodging 3 – 4 stars
Difficulty Moderate
Group size Max. 8 people
Price USD $TBD per person
Overview
With an area of only 75,000 square kilometers, Panama is home to 10% of the world's avifauna. This little country has approximately ten endemic birds and covers seven Endemic Bird Areas. Panama extends from west to east, bordered by the Caribbean Sea to the north and the Pacific Ocean to the south. Two slopes are the result of a continental divide and create different conditions to host an abundance of areas of endemism.
On this tour, we visit five of these endemic bird areas. Our goal is to seek out as many birds as possible. Panama has a considerable number of special birds among endemics and species of conservation importance. Some are even considered Panama's rarest birds. We will start in the western lowlands, where we will explore the Pacific slope. Here are two areas of endemism shared with Costa Rica. In these lowlands, we can find birds such as the Coiba Spinetail and Yellow-billed Cotinga.
In the highlands, we expect to find the endemic Yellow-green Finch and Yellow-throated Chlorospingus. The breeding area of the unique Three-wattled Bellbird is another area of endemism on its own, and beside the bellbird, we will also look for the rare Bare-necked Umbrellabird and secretive Lanceolated Monklet. As we make our way eastward, several places along the Caribbean slope will allow us to find special birds such as Stripe-cheeked Woodpecker and Black-crowned Antpitta. Lastly, we will explore the Darien lowlands where we expect to see Harpy Eagleand the Panamanian endemic Yellow-green Tyrannulet, among many others.
Our Panama's rarest birds tour will not only allow us to get to know the birds, but we will also have the opportunity to meet various people who work in bird conservation by research or direct conservation efforts.
Itinerary
DAY 1: ARRIVAL AND FLIGHT TO DAVID (CHIRIQUI)
We start off our Panama's Rarest Birds: Off the Beaten Path Birding tour by meeting you at Tocumen International Airport in Panama City. Once everyone has arrived, we will take the flight to David (midday flight). From there, we will drive an hour to the town of Boquete.
DAY 2: QUETZAL TRAIL & VOLCAN BARU
The birding tour begins this morning by looking for the specialties of the highlands of western Panama. We will start exploring the famous Quetzal Trail, where we will look for Black Guan, Prong-billed Barbet, Silvery-fronted Tapaculo, and, who will surely stand out and gives the trail its name, the Resplendent Quetzal. In the afternoon, we will go up to the top of the Volcan Baru in 4×4 vehicles. During the climb, we will watch for some of Panama's highest-altitude birds. Black-capped Flycatcher, Long-tailed Silky-flycatcher, Volcano Hummingbird, Wrenthrush, and Large-footed Finch can all be found here. Arriving at the top of the volcano just before sunset, we will search for Volcano Junco, Sooty Thrush, and Timberline Wren. Our descent will begin once night has fallen, to seek for some nocturnal birds. Bare-shanked Screech-Owl, Dusky Nightjar, and Unspotted Saw-whet Owl, some of the rarest birds found in Panama.
DAY 3: CERRO PUNTA & LAGUNAS DE VOLCAN
Early this morning, we will drive to Birding Paradise. We can enjoy the hummingbird feeders while we have a typical Panamanian breakfast on the terraza. Among the hummingbirds we hope to see are Scaly-breasted Hummingbird (Cuvier's), Snowy-bellied Hummingbird, Brown Violetear, Long-billed Starthroat, and the regional endemic Charming Hummingbird. After leaving there, we will keep on our way to Cerro Punta, on the other side of the volcano. In the afternoon, we will visit Lagunas del Volcan to look for Costa Rican Brushfinch, Olive-crowned Yellowthroat (Chiriqui), and Chiriqui Foliage-gleaner.
DAY 4: PUERTO ARMUELLES
We will have a very early departure from our hotel to reach the western tip of Panama, just a stone's throw from the border of Costa Rica. In these lowlands, we expect to find regional endemics Baird's Trogon, Golden-naped Woodpecker, and Riverside Wren. Among our targets will also beWhite-throated Shrike-Tanager, Tawny-winged Woodcreeper, and Yellow-bellied Tyrannulet. On our way to our hotel, we will make a few stops to seek out more specialties of the lowlands, such as Brown-throated Parakeet (Veraguas), Morelet's Seedeater, and Black-bellied Wren.
DAY 5: CERRO BATIPA
We will continue exploring the western lowlands of Panama, this time in the Cerro Batipa Wildlife Reserve. This is the best place to find the elusive Yellow-billed Cotinga. We will also search for the regional endemics Veraguan Mango, Black-hooded Antshrike, and Spot-crowned Euphonia.
DAY 6: CERRO COLORADO & DRIVE TO SANTA FE
Today we make our way back up to the highlands, this time to the Ngäbe Buglé reservation. Specifically, we will visit Cerro Colorado, where we will look very hard for the range-restricted Glow-throated Hummingbird. As we search for this difficult hummingbird, we expect to see other specialties such as Sooty-faced Finch, Yellow-green Brushfinch(endemic), Blue-and-gold Tanager, Black-faced Solitaire, Black-thighed Grosbeak, among many others. In the afternoon, we will drive to Santa Fe, a fantastic region on the Caribbean slope further to the east, yet part the same mountain range.
DAY 7: SANTA FE & DRIVE TO MARIATO
We will have a full morning of birding exploring the areas of Santa Fe National Park. This national park is home to several of Panama's rarest birds such as the Lanceolated Monklet, Lattice-tailed Trogon, Yellow-throated Chlorospingus (Drab-breasted), and especially the Bare-necked Umbrellabird. After lunch, we will head down to the Pacific coast to the town of Mariato.
DAY 8: COIBA ISLAND
The largest island in the Central America Pacific awaits us. This is the only place to spot the near-threatened endemic Coiba Spinetail. Another species that deserves our search effort is the Gray-headed Dove (Brown-backed endemic subspecies) and Scarlet Macaw, which has a tiny population is restricted to only this area of Panama.
DAY 9: MORNING BIRDING HELICONIA INN & DRIVE TO PENONOME
Today we will explore the Azuero Peninsula and areas near Cerro Hoya National Park. We will focus our search for the endemic subspecies of Painted Parakeet (Azuero), Mouse-colored Tyrannulet (Northern), and Pale-eyed Pygmy-Tyrant. In the afternoon we will drive to Penonome.
DAY 10: EL COPE – OMAR TORRIJOS NATIONAL PARK
We will head out very early toward El Cope town and visit Omar Torrijose national park. Our stop here will increase our likelihood to find the Bare-necked Umbrellabird. During our search for this amazing bird, we also expect to spot Blue-and-gold Tanager, Collared Trogon (Orange-bellied), Lattice-tailed Trogon, and Dull-mantled Antbird. After lunch, we will head to Panama City.
DAY 11: PIPELINE ROAD & PANAMA RAINFOREST DISCOVERY CENTER
Today we head to the famous Pipeline Road in Soberania National Park. We plan to get there before the sun rises and take advantage of the cool morning on the observation tower of the Panama Rainforest Discovery Center. On the tower, we focus on the canopy specialties such as Black-capped Pygmy-Tyrant, Blue Cotinga, and Black-breasted Puffbird. At ground level, we search for Streak-chested Antpitta, Pheasant Cuckoo, and the ant-following birds Ocellated and Bicolored antbirds, and so much more in the forest understory.
Day 12: METROPOLITAN NATURAL PARK & BAY OF PANAMA
The Dry Forest adjacent to Panama City has a lot to offer. Among the specialties of this habitat, we expect to find Rufous-and-white Wren, Lance-tailed Manakin, Rosy Thrush-Tanager, and the endemic Yellow-green Tyrannulet. In the afternoon we will visit the Bay of Panama, the most important area for migratory shorebirds in the Americas. There we will explore the mangrove patches and mudflats looking for Straight-billed Woodcreeper, Scaly-breasted Hummingbird, and Yellow-crowned Parrot, among many others.
Conservation Talk: Conservation Plan for the Wetlands of Panama Bay (Panama Audubon)
DAY 13: CERRO AZUL
After an early breakfast, we will depart from our hotel and drive towards the eastern foothills. Cerro Azul is in the upper basin of the Chagres River and next to Chagres National Park. Among our main targets are the near-endemics Stripe-cheeked Woodpecker and Violet-capped Hummingbird. Besides these two range-restricted birds, we also hope to find Yellow-eared Toucanet, Rufous-crested Coquette, Blue-fronted Parrotlet, and Rufous-winged Tanager, among many others.
Day 14: NUSAGANDI
On the final leg of our tour, it is now time to explore the eastern side of Panama. To start off, we will visit the Nusagandi Reserve at Guna Yala reservation. This forested reserve is located on the Caribbean Slope. Here we can some of Panama's rarest birds such as Sapayoa, Spiny-faced Antshrike, and Slate-throated Gnatcatcher. On our way to Darien, we will make a few stops to look for White-eared Conebill, Jet Antbird, and Barred Puffbird, just some of the specialties of eastern Panama.
DAY 15: HARPY EAGLE DAY
We have an exciting day ahead of us as we journey to find the National Bird of Panama, the Harpy Eagle. Depending on the location of an active nest, our excursion to the nest site may vary. Usually, accessing a Harpy Eagle nest involves a couple of hours of driving, a dug-out canoe along rivers, and hiking on trails until we reach the nest. Please keep in mind that even though the nest will be active, we cannot guarantee that the eagles will be in sight. Along the way to the nest, we expect to find Yellow-breasted Flycatcher (Ochre-lored), White-headed Wren, Golden-headed Manakin, Black Antshrike, and Black Oropendola, among many others.
Conservation Talk: Harpy Eagle conservation project (Jose Vargas, Fundacion Rapaces y Bosques de Panama)
DAY 16: CRESTED EAGLE OR NUEVO VIGIA
Today's birding will depend on if there is an active Crested Eagle nest available to visit. If so, our journey to get to the nest will be very similar to that of the previous day. Otherwise, we will visit the Embera community of Nuevo Vigia. We will explore its trails and riversides. We focus our search to find Gray-cheeked Nunlet, Dusky-backed Jacamar, Bare-crowned Antbird, Red-billed Scythebill, and Agami Heron, among many others.
DAY 17: SAN FRANCISCO RESERVE & RETURN TO PANAMA CITY
On our last morning of the tour, we will dedicate ourselves to looking for those birds that we have not yet seen. There is potential to see some of Panama's rarest birds during a morning stop at San Francisco Reserve. Wing-banded Antbird, Black-and-white Hawk-Eagle, Great Jacamar, Rufous-winged Antwren, and Central American Pygmy-Owl are all found here.
Our Panama's Rarest Birds: Off the Beaten Path Birding Tour concludes in Panama City.
Species
BIRDS
Harpy Eagle
Crested Eagle
Glow-throated Hummingbird
Brown-backed Dove
Yellow-green Brushfinch
Coiba Spaintail
Azuero Parakeet
Bare-necked Umbrellabird
Spot-crowned Barbet
Yellow-green Tyrannulet
Yellow-billed Cotinga
Spiny-faced Antshrike
Violet-capped Hummingbird
Stripe-cheeked Woodpecker
Orange-collared Manakin
Unspotted Saw-whet Owl
Resplendent Quetzal
Lattice-tailed Trogon
Baird's Trogon
Sapayoa
Black-crowned Antpitta
Lanceolated Monklet
Great Green Macaw
Veraguan Mango
Lattice Trogon
Collared Trogon (Orange-bellied)
Dull-mantled Antbird
TOUR BASICS
Guide: Edwin Campbell
Single Supplement: US$TBD
Lodging: Comfortable and clean hotels and inns
Food: Quality, fresh, local ingredients prepared in Panamanian and International styles
Weather: Hot and humid in the central and eastern regions. Cool and humid in the western highlands, particularly at night.
Difficulty: Moderate. Most days will include a fair amount of walking within undulating terrain.
* With smaller groups, an additional fee will be charged.
---
LEARN MORE
From our blog:
Top 10 Birds of Panama