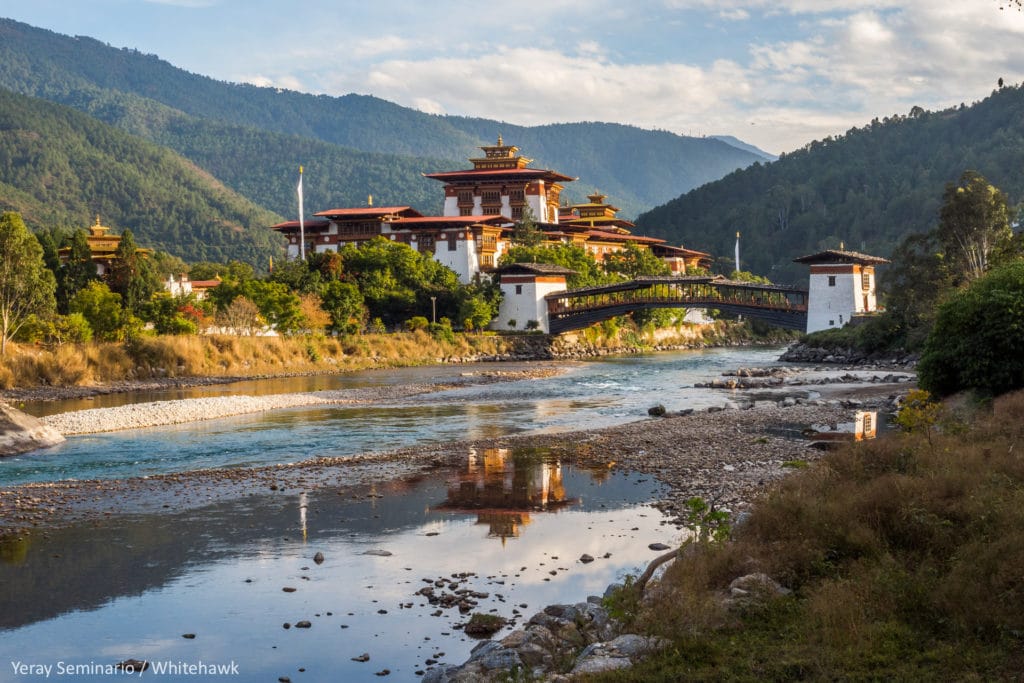 Druk Yul, otherwise known as Bhutan, is Whitehawk's newest travel destination. Whitehawk's first tour to Bhutan is scheduled for April 2020. So Yeray and I traveled there in December to finalize all the details for the upcoming trip. Following the same itinerary as the group will in April, our journey officially started in Guwahati, India. There, we made a quick stop at the Deepor Beel Wildlife Sanctuary. This wetland – a Ramsar Site – is a haven for birds and wildlife in the middle of an ever-expanding city.

In just a short time, we were able to see several special birds. Asian Openbill, Red-crested Pochard, Red-wattled Lapwing, and Indian Pond-Heron, were plentiful. A Steppe Eagle soared overhead. White-throated Kingfisher, Lesser Adjutant and the first lifer of our trip – the endangered Greater Adjutant – were highlights. Our quick stop yielded 26 species of birds. But, since we still had a lot of driving ahead of us, we continued making our way to the border.
Druk Yul – Land of the Thunder Dragon
We arrived in Bhutan in the evening. After meeting our guide, Chubzang, and driver, Chimmi, we passed through immigration. We then headed to our hotel. After a good night's rest, we awoke in a land unlike any other.
White prayer flags dotted the landscape, planted in the Earth to liberate the souls of the dead. Strung across chasms and bridges, high trees and every major pass, colorful prayer flags of red, green, yellow, blue, fluttered in the wind. We came across nettles that smelled like skunk, we drove on the country's only "major highway" – a narrow winding road paved in some spots, unpaved in others. We ate delicious vegetable dishes, drank yak milk tea and visited breath-taking temples. The Bhutanese government has done such a great job preserving the forests, it was impossible to distinguish a national park from the rest of the nation. This 16-day journey was an amazing experience and we can't wait to share it with you.
Birds of Bhutan
With over 650 species of birds found in Bhutan, it is quickly becoming a top destination for birders and nature enthusiasts alike. Throughout our trip we birded beneath breathtaking waterfalls, and along slow-moving rivers and scattered boulders. We traveled through forests, wide valleys, and high mountains, and in total, observed over 300 bird species. As I write about this trip, I am hard-pressed to pick my most memorable sighting. So I will name a few. Since I have a special affinity for owls – I will start there. On our trip, we were lucky enough to see 5 different owl species: Spot-bellied Eagle Owl, Collared Scops Owl and Brown Wood-Owl we observed at night. During the day, we had amazing views of a roosting Tawny Fish-Owl, Asian Barred and Collared Owlet.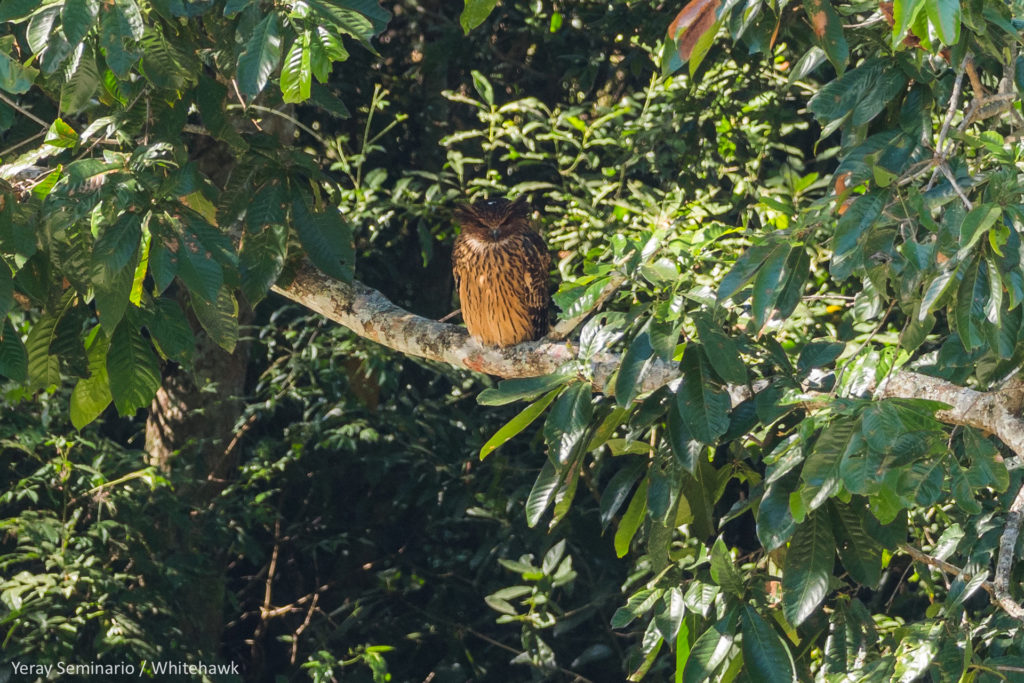 While both in and out of National Parks, we did most of our birding along the main highway – which is two lanes in places, in others just one. This road that winds from east to west feels more like a peaceful country road than the nation's only major road system. This made for very pleasant birding, as the walking was at a gentle pace and we didn't have to contend with traffic.
Some amazing species we saw along the roadside include Scarlet Minivet, Yellow-billed Blue Magpie, Blood Pheasant, Brown Parrotbill, Rufous-vented Yuhina, Himalayan Cutia, Long-tailed Sibia, Crested Kingfisher, Yellow-bellied Fairy Fantail, as well as nuthatches, treecreepers, woodpeckers and laughingthrushes, among many other unique and spectacular species. Perhaps my favorite moment, however, was not a sighting at all. But a sound. Nothing quite compares to the deep whoosh of a Great Hornbill's wings as it gracefully glides from treetop to treetop. Of course, watching a few of them feed on fruits just a few feet away as the sun was slowly disappearing behind the mountains was another unforgettable moment of many!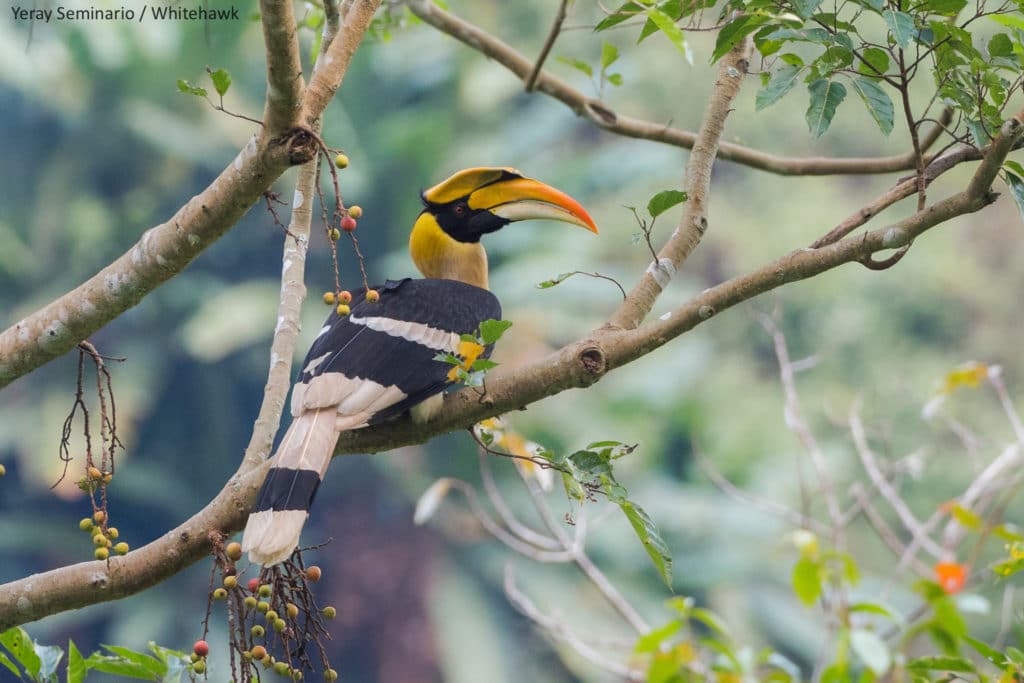 As we birded along Bhutan's many rivers, streams and waterfalls, we were lucky enough to spot two individuals of the rare and critically endangered White-bellied Heron – a shy bird whose habitat is, sadly, being overrun. We also saw several Ibisbill, Brown Dippers, Slaty- backed, Black-backed, Spotted and Little forktails.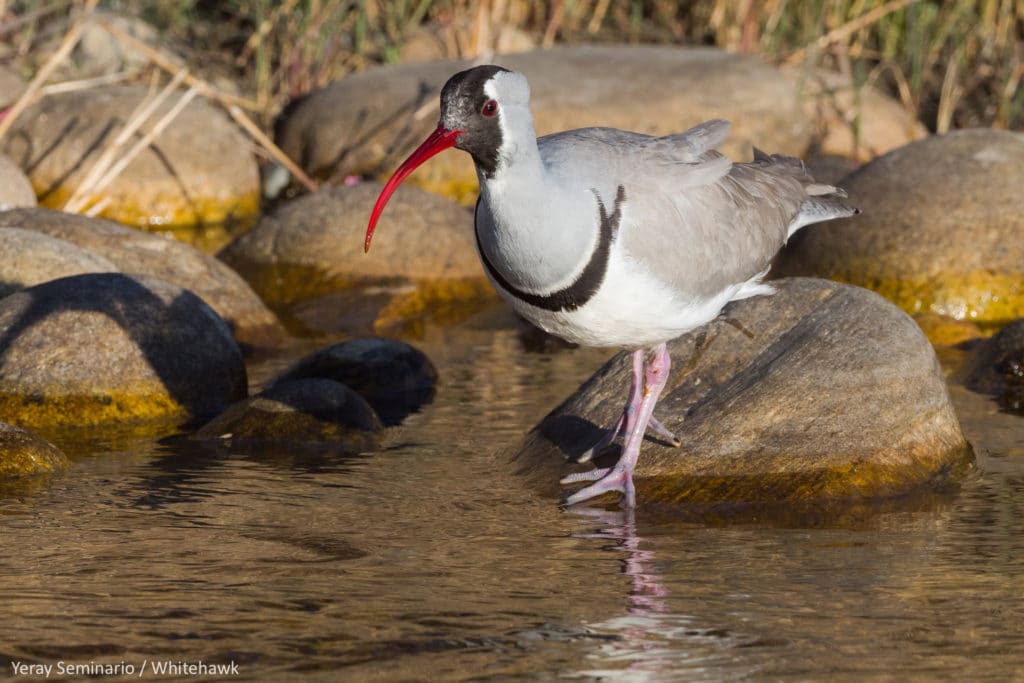 Mammals of Bhutan
Apart from its plethora of bird species, Bhutan is well-known for its other wildlife including an abundance of butterflies – of which we saw and photographed plenty, and a long list of much-sought-after mammals. Though we weren't able to see a Red Panda on this trip, we spent a
good deal of time in Red Panda territory – Bhutan's temperate forests blanketed with large conifers protruding from the Earth, draped in moss that fooled us more than once into thinking we were seeing a Red Panda tail. Just knowing we were in the territory of this incredible species
was a thrill.

Overall, I was amazed at the number of mammals we were able to see. Yeray and Chubzang spotted a Leopard Cat in the middle of the day. It had been resting just beneath a drainage pipe. Upon hearing us above, it quickly darted into the underbrush, disappearing almost instantly. Our luck with wild cats would not end there, though! As we drove up a winding mountain pass a Pallas' Cat trotted across the road. Though the sun had set hours before, in the car's headlights, we could still make out the cat's tell-tale flat head as it paused to look at us before vanishing into the forest.

Over the sixteen days, our list of mammals continued to grow. At night, we were able to observe Barking Deer, an Asian Palm Civet and, not one, but two Bhutan Giant Flying Squirrels. During the day, we observed Red Fox, several Five-Striped Palm Squirrels, a Black Giant Squirrel feeding on tree bark, Sambar Deer, Assam Macaque, and Gee's Golden and Capped langurs.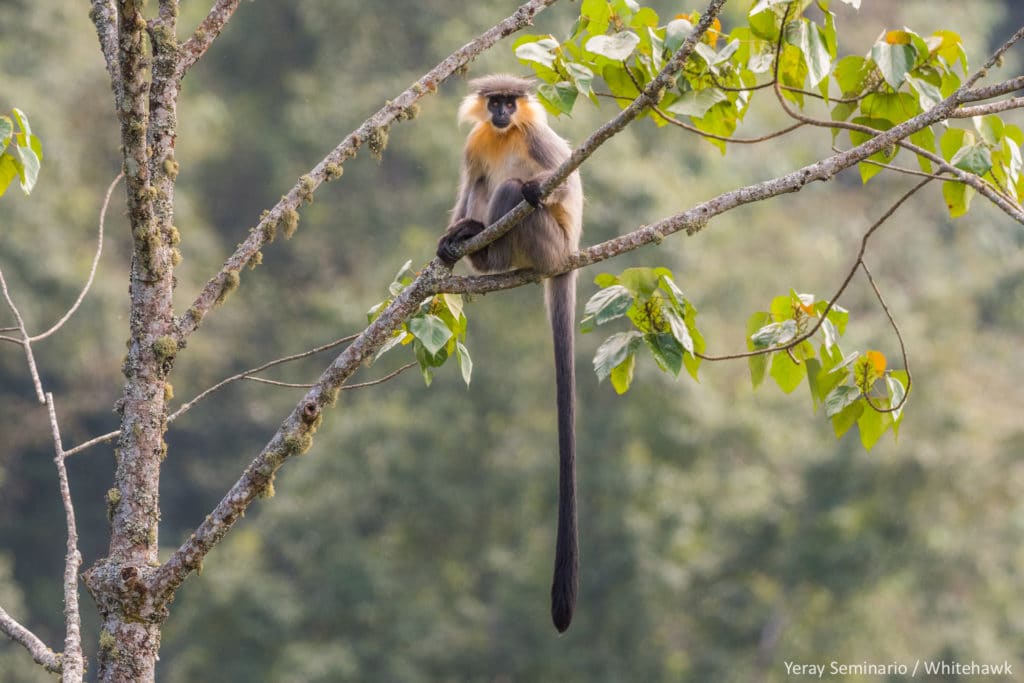 Tiger's Nest Bhutan
On our last full day in Bhutan, we hiked to the stunning Tiger's Nest Monastery. Also known as Paro Taktsang or Taktsang Palphug Monastery, built into a steep cliffside in Paro Valley in 1692. Though damaged by fire in the late 1990's it was quickly rebuilt and remains one of the most sacred Buddhist sites in the world.
We began our day with a short drive from our hotel in Paro to the trail head. There vendors line up to sell Tibetan singing bowls, bells, lovely stone jewelry, scarves and hats. In the parking area, several White-throated Laughingthrushes were moving about in the bushes. This was a nice opportunity for Yeray to get some stunning photos. Only a few meters beyond, we came across a prayer wheel, turned by the power of a running stream . From there, the trail began to climb gradually. We shared the steep, winding dirt path with other tourists, with pilgrims young and old, with horses carrying visitors to the top.

Our first stop was a café about 1/3 of the way up. We had a quick rest, drank tea and ate biscuits. We enjoyed a stunning view of the monastery in the distance. Its white walls, and red and gold roof shone among the green pines, blue skies, and white clouds. After finishing our tea, we were anxious to keep moving. We walked another 1.5 hours. The trail descended before climbing again along a series of steps carved into the stone. At the entrance to the temple, we were treated with a pleasant surprise! A small flock of Altai Accentors bobbing in the grass, searching for food.
After watching them for a while, we were ready to enter the monastery. We removed our shoes and walked into the temple. The smell of incense, the sight of burning candles, holy statues, and intricate paintings immediately transported us back in time. The beauty and magic of this place is hard to describe. I will just say that every step to get there was worth it.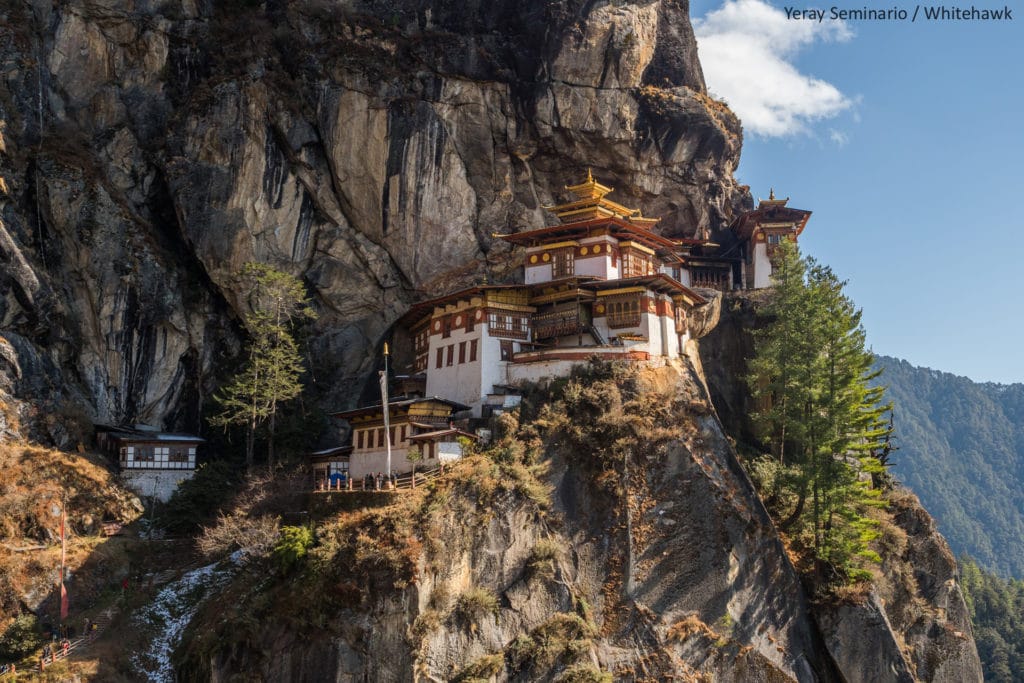 In fact, this is true for not just the visit to Tiger's Nest, but the whole trip to Bhutan. Though it took two days and several long plane rides to get there, I would do it all again for a chance to experience more of what this amazing country has to offer. Whitehawk's BHUTAN: BIRDING IN THE HIMALAYAS tour will run from 9-24 April, 2020, so consider joining us. We only have 4 spaces left on this once in a lifetime trip. Contact us for more details.
~ Marta