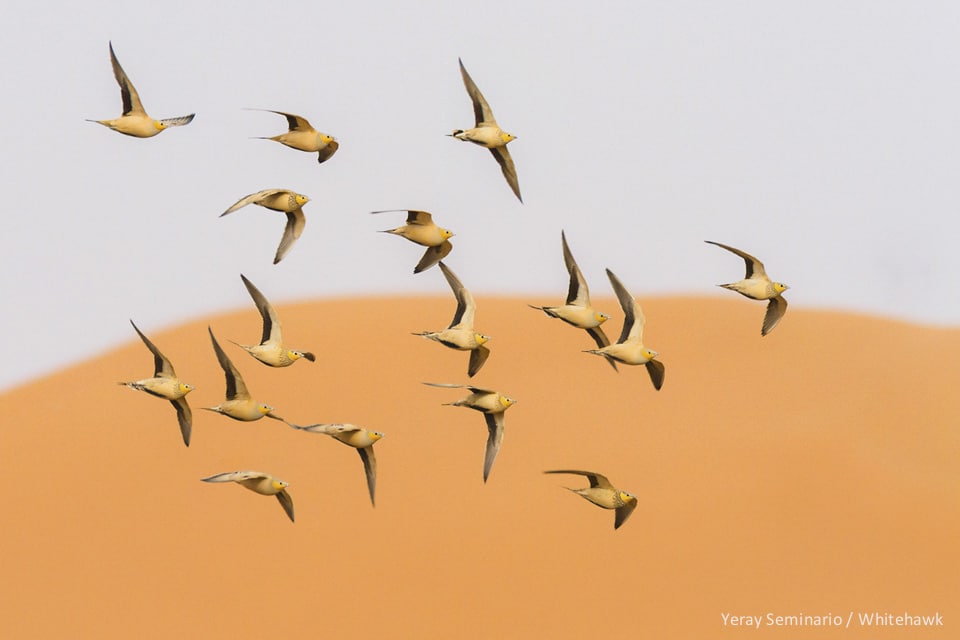 We uploaded the latest Magical Morocco Birding Tour trip report to our website and on the Cloud Birders site. Click on this link to read and download the full report. We are sure you will enjoy learning about birding in Morocco, where over 450 species have been recorded. Morocco is one of our favorite destinations for birding, and in this report you will find out why!
2016 Morocco Birding Trip Report
Our Magical Morocco birding trip report is full of all the trip details, with the amazing species we saw, and some surprising encounters in the desert. We have added many pictures, like this one of a flock of Spotted Sandgrouse against the sand dunes. We hope that you find them evocative of the Sahara desert, the Atlas mountains and the Atlantic coast. Some major trip highlights include Desert Sparrow, African Crimson-winged Finch and Trumpeter Finch. Cream-colored Courser, Barbary Falcon and Red-knobbed Coot. This is truly a magical country, with so much to enjoy!
More about Morocco
Morocco is located on the Atlantic coast of Northwestern Africa. It is bordered by Spain to the north, Algeria to the east and Western Sahara to the south. The Sahara desert provides a different and intriguing backdrop when it comes to birding. The Striat of Gibraltar is a key water passage that connects the Mediterranean Sea to the Atlantic Ocean. Migrating raptors and other birds cross this narrow stretch, thus making Morocco a prime destination for watching and enjoying migration. Spring is no doubt the best time to visit Morocco. Contact us about birding in Morocco, we are happy to answer your questions about this fantastic destination.