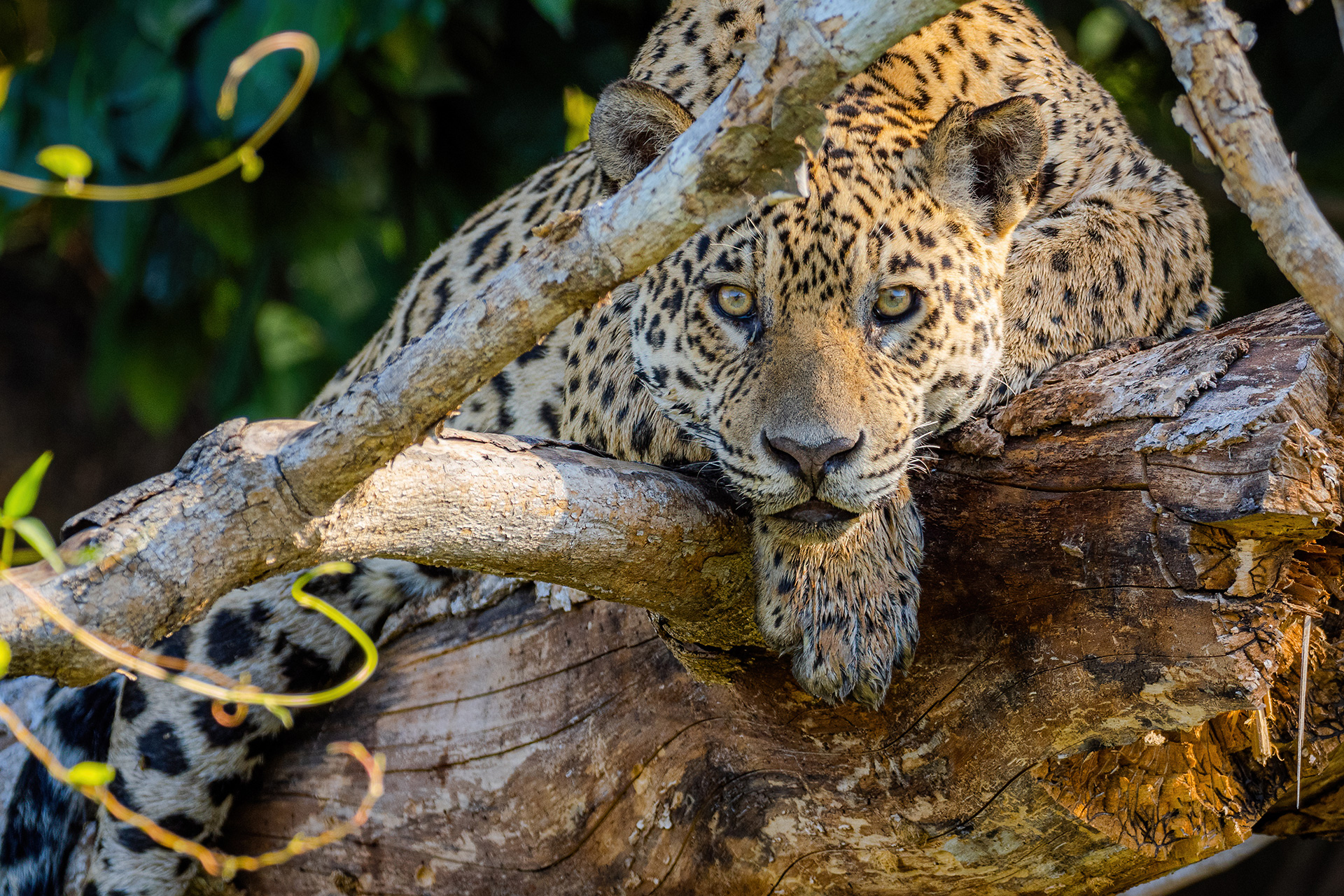 BRAZIL: PANTANAL & CHAPADA DOS GUIMARÃES
Next tour dates July 15-30, 2024
Duration 16 days
Lodging 3-4 stars
Difficulty Easy – Medium
Group size Max. 8 people
Price USD $8,450 per person*
Overview
Pantanal, from the Brazilian word, pântano, which means "abundance," is an apt name for this massive area. It is the world's largest tropical wetland and flooded grasslands. Covering over 70,000 square miles, it is home to a wide array of diverse and unique flora and fauna.
Here, nearly 2,000 species of plants can be found. This variety of plants, of course, give rise to a number of different wildlife species. Perhaps the most emblematic animal of the region is the Jaguar. The Pantanal supports one of the largest global populations of jaguars.
Over this 16-day Brazil Pantanal tour, we will be spending most of our time exploring this amazing region. We will search for colorful macaws flying over, parakeets perched above us, parrots, woodpeckers, manakins, as well as beautiful waterbirds, and more. We will also keep our eyes out for some of the other iconic mammals found here including Black-tailed Marmoset, Southern Tamandua, and Lowland Tapir, just to mention a few. It is an incredible wildlife safari not to be missed!
Itinerary
DAY 1: ARRIVAL AT CAMPO GRANDE AND TRANSFER TO SOUTHERN PANTANAL
We will meet at the airport in Campo Grande for the start of our Brazil Pantanal tour. From here, we will head to the highly biodiverse southern Pantanal! Even before arriving at our lodge, we will have many chances to spot some of the fantastic wildlife that call this biome home, such as Greater Rhea, Plumbeous Ibis, Nanday Parakeet, Red-legged Siriema, and Picazuro Pigeon. At the lodge, we will enjoy observing the productive bird feeders and its visitors, such as Yellow-billed Cardinal, Plush-crested Jay, and Grayish Baywing.
DAYS 2 & 3: POUSADA AGUAPÉ
We will have two full days to explore the wildlife of the hacienda in the Southern Pantanal. Between safaris, trails and a boat trip on the Aquidauana River, we hope to find species such as Blaze-winged Parakeet, Long-tailed Ground Dove, Chestnut-capped Foliage-gleaner, Chaco Chachalaca, Yellow-collared Macaw among many others. In addition to the birds, we will look for some of the typical mammals of the Pantanal, such as Marsh Deer and Capybara. This is also the best area in the whole of the Pantanal to see the amazing Giant Anteater!
DAY 4: TRANSFER TO BONITO
On our last morning at Pousada Aguapé, we will focus on increasing our trip list. Jabiru, Bare-faced Curassow, Hyacinth Macaw, Undulated Tinamou, and Toco Toucan are some of the interesting species that we hope to see before we leave. After lunch, we will head south to reach the Cerrado biome at the town of Bonito.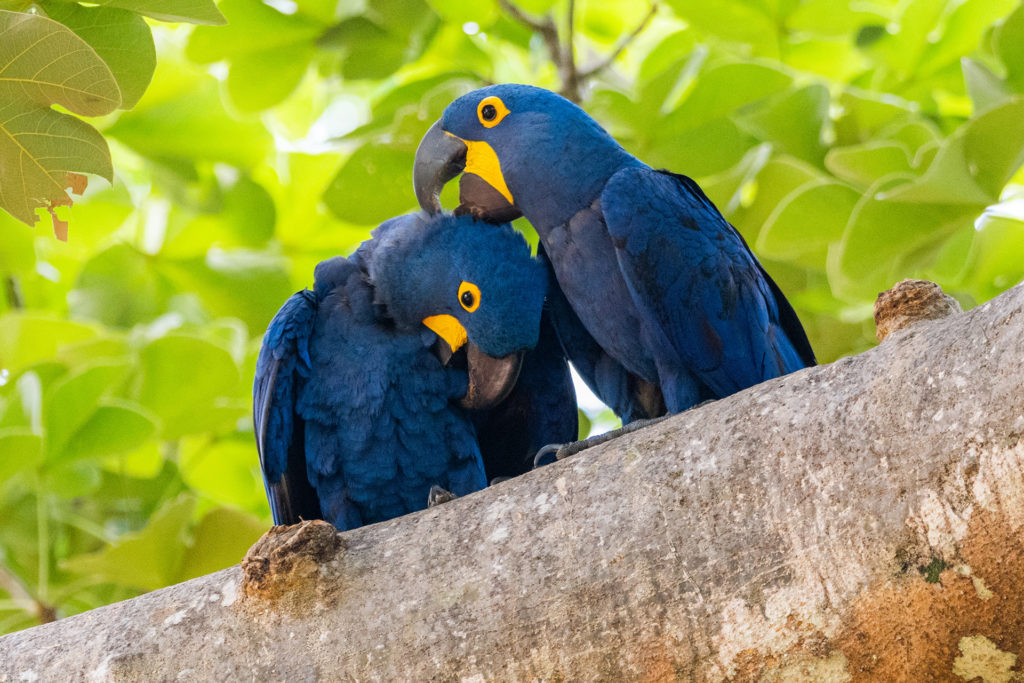 DAY 5: ESTÂNCIA MIMOSA & BURACO DAS ARARAS
Estância Mimosa has a protected area of ciliary forest on the edge of the Mimoso River. This is another perfect habitat to find the regional endemic Blaze-winged Parakeet, and we will also search for Red-rumped Cacique, Narrow-billed Woodcreeper, and Plush-crested Jay. In the afternoon, we will head to Buraco das Araras (Macaw's sinkhole). This is the second largest sinkhole, dolina, in the world, measuring more than 100 meters deep and 500 meters in circumfrence. Within this dolina nests a large population of Red-and-green Macaw, which will delight us with their spectacular and colorful flights. Other species we also hope to see here include Plush-crested Jay, Peach-fronted Parakeet, Amazonian Motmot, among many others.
DAY 6: FLIGHT TO MATO GROSSO
Today we will check out and drive to the city of Campo Grande, a journey of around 4 hours. Here we will hop on a flight to Cuiabá in the state of Mato Grosso, to continue our exciting Brazil Pantanal tour.
DAY 7: CHAPADA DOS GUIMARÃES
After breakfast we will drive to Chapada dos Guimarães. This afternoon, we will take advantage of the day to make a visit to the Bridal's Veil Waterfall. Apart from the stunning beauty of the falls themselves, we will also have good chances to see and photograph some lovely birds including Red-and-green Macaw, Blue-winged Macaw, White-eyed Parakeet, Chestnut-eared Aracari, Blue Dacnis, and Swallow Tanagers, among many others.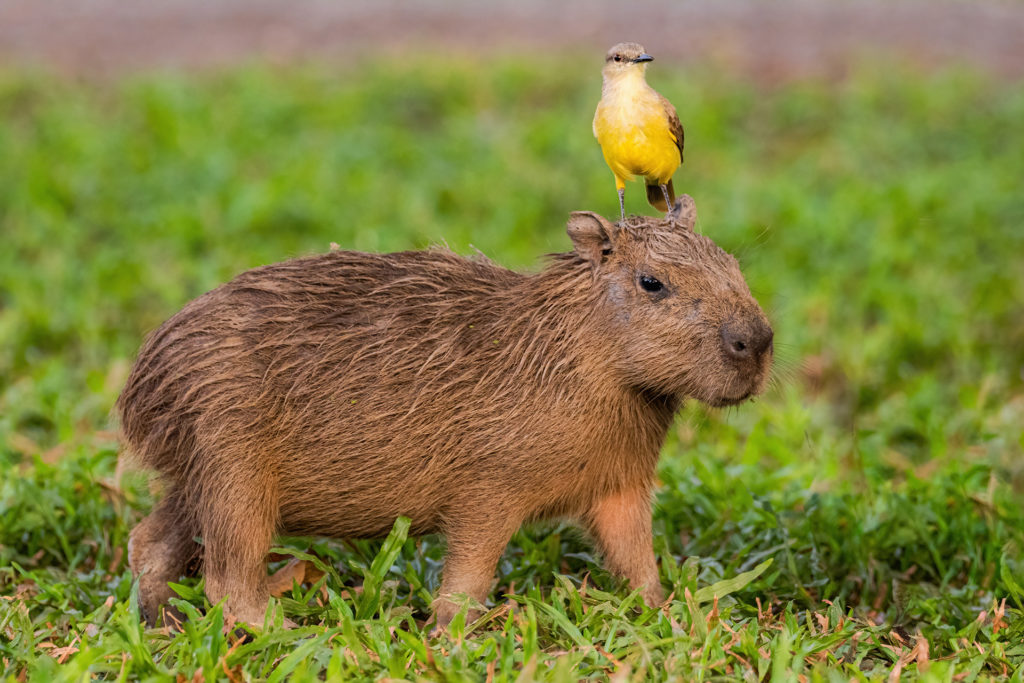 DAY 8: CIDADE DAS PEDRAS (CHAPADA DOS GUIMARÃES NATIONAL PARK)
This morning we will visit Cidade das Pedras in the Chapada dos Guimarães National Park, where we will take in the superb views from the plateau. Then, we will spend some time birding along the Vale do Jamacá looking for Band-tailed Manakin, Lettered Aracari, and Pale-crested Woodpecker, to name just a few.
DAY 9: NORTHERN PANTANAL
This morning, we will take advantage of the morning light and do some birding around the lodge grounds. Afterwards, we will travel to our first destination in the northern Pantanal. The Aymara Lodge is a superb wildlife refuge. Woodpeckers, macaws, parrots, toucans as well as monkeys and other animals can be seen and photographed just outside of our bungalows. Bare-faced Curassow, Glittering-throated Emerald, and Azure Gallinule are just a few species we hope to find and photograph here. This is also a great place to do an evening safari to extend our day of wildlife watching during our Brazil Pantanal tour.
DAY 10: AYMARA LODGE
During our first full day at the lodge, we will enjoy searching for and photographing a number of iconic wildlife species found here, such as Hyacinth Macaw, Blue-fronted Parrot, Red-throated Piping-Guan, Black-tailed Marmoset, Azara's Capuchin, and Southern Tamandua. In the afternoon, we will enjoy an open truck safari during which we will search for more wildlife in the Poconé Pantanal.
DAY 11: AYMARA LODGE & TRANSFER TO PORTO JOFRE
Today we will enjoy a final morning at the reserve, perhaps spotting some species we haven't seen yet, or having better opportunities for photography. We will then transfer to the end of the Transpantaneira Road, and the site of our next destination – Porto Jofre. Along the way, we will make some stops depending on the wildlife we encounter and for our lunch as well. Here, we will search for some species such as Yellow-billed Cardinal, Southern Screamer, Toco Toucan, Orange-backed Troupial, and more.
DAYS 12 & 13: PORTO JOFRE
Porto Jofre has one of the highest Jaguar densities in all of Latin America, with around eight individuals per 100 km2. Nowadays it is known as one of the best places to photograph this big cat in the world. To increase our chances of spotting and photographing the largest wild cat in the Neotropics, we will embark on two full days of boat rides. We also expect to find other wildlife such as Southern River Otter, Lowland Tapir, Capybara, and caimans.
DAY 14: PIUVAL LODGE
After breakfast at our hotel we will transfer to Piuval Lodge. This old farm has a number of trails that encompass a variety of Pantanal habitats, creating great chances for finding a nice selection of birds. We will seek out some species such as White-fronted Woodpecker, Greater Rhea, Guira Cuckoo, Pied Lapwing, Red-legged Seriema, Purplish Jay, Helmeted Manakin, White-headed Marsh Tyrant, Campo Flicker, to name just a few. If the water level allows it, we can navigate the Bento Gomes River to observe some aquatic birds and maybe some mammals as well.
DAY 15: PIUVAL LODGE & RETURN TO CUIABÁ
We will enjoy a final morning of birding around the lodge to seek out any other species not yet seen or to get better photographs. We will then head to Cuiabá for our final night, where we can enjoy a nice dinner and share our favorite memories of our Brazilian Pantanal tour!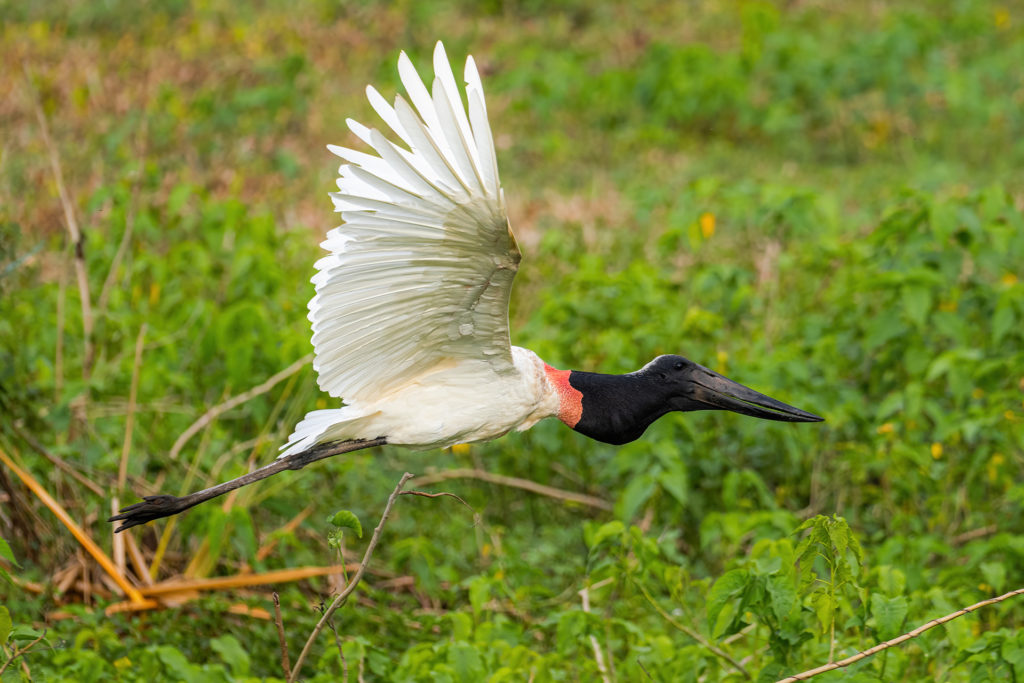 DAY 16: DEPARTURE
After breakfast, you will transfer to the airport in Cuiabá for your departure flights home. Our Brazil Pantanal tour concludes in Cuiabá.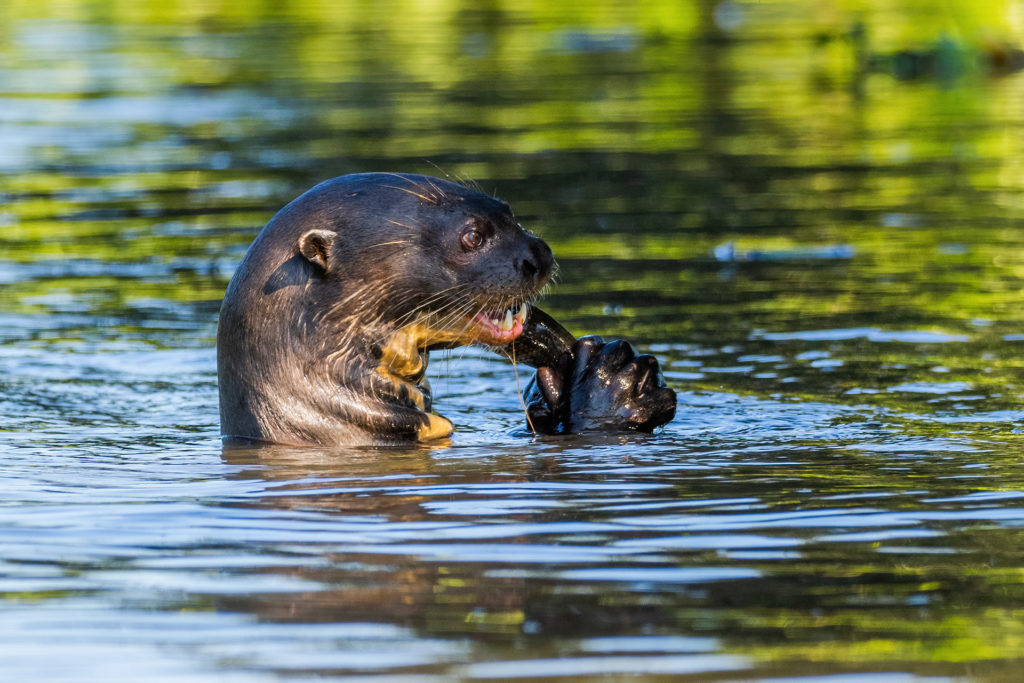 Species
BIRDS
Greater Rhea
Southern Screamer
Plumbeous Ibis
Chaco Chachalaca
Bare-faced Curassow
Red-throated Piping-Guan
Gittering-throated Emerald
Hoatzin
Picazuro Pigeon
Guira Cuckoo
Jabiru
Zigzag Heron
Agami Heron
Plumbeous Ibis
King Vulture
Amazonian Motmot
Swallow-winged Puffbird
Lettered Aracari
Toco Toucan
Pale-crested Woodpecker
Campo Flicker
Red-legged Sereima
Hyacinth Macaw
Blaze-winged Parakeet
Nanday Parakeet
Helmeted Manakin
Purplish Jay
Plush-crested Jay
Black-capped Donacobius
Red-rumped Cacique
Scarlet-headed Blackbird
Yellow-billed Cardinal
Swallow Tanager
MAMMALS
Jaguar
Capybara
Lowland (Brazilian) Tapir
Crab-eating Fox
Giant Otter
Giant Anteater
Southern Tamandua
Black-tailed Marmoset
Azara's Capuchin
TOUR BASICS
Guide: Edwin Campbell
Single Supplement: US$1,300
Lodging: Clean, comfortable lodging throughout
Food: Very good combination of Brazilian and international food
Weather: Hot temperatures and humid, tropical conditions
Difficulty: Easy to moderate. Some birding will be done on roads where you may encounter uneven terrain. You will also need to be able to get in and out of boats and safari vehicles.
* Pricing is based on 8 participants. With smaller groups, an additional fee will be charged.
---
LEARN MORE
Upcoming tour dates:
July 15-30, 2024
Past trip reports:
2022 Private Tour Trip Report
From our blog:
Hornbills & Toucans: A Tale of Convergent Evolution