Have you ever wanted to visit Belize? This relatively small country located in the heart of Central America, is nestled between Mexico to the north, Guatemala to the west, and the Caribbean Sea to the east. It has so much to offer birders and nature lovers in general. Here is our list, in no particular order, of the top 10 reasons to visit Belize.
1. So Many Raptors
Belize is home to approximately 609 bird species. From the impressive Jabiru stork to its national bird, the Keel-billed Toucan, Belize's forests are alive with hummingbirds, trogons, motmots, and manakins. But what really stands out when you visit Belize is the relative ease in which one can find some amazing birds of prey. Fifty-nine different species of raptors can be found in this small country!
In the marshes and wetlands, we can spot Lesser Yellow-headed Vulture, Snail Kite, and Black-collared Hawk. Traveling to the forested areas, we may catch a glimpse of a Plumbeous Kite soaring in the sky or a dazzlingly fast Orange-breasted Falcon chasing a flock of swifts. We might cross paths with an Ornate Hawk-Eagle, a Laughing Falcon or even a Solitary Eagle or Black-and-white Hawk-Eagle, if we are very lucky. Of course, we cannot forget the owls. Both the diminutive Ferruginous Pygmy-Owl and the large and imposing Stygian Owl are seen with relative ease in the Mountain Pine Ridge.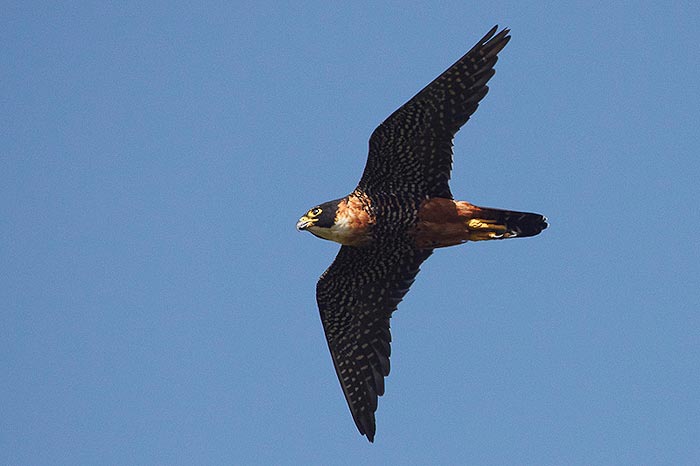 2. Mayan Ruins
Together with Guatemala, Belize represents the heart of the Mayan civilization. Nearly a dozen major Mayan ruins dot the Belizean landscape. Standing beneath one of the towering stone temples that rises up to meet the rainforest canopy leaves one awestruck and amazed. The intricate carvings that decorate some of the temple walls and the stunning architecture make these sites a must for any visitor to the region. Caracol (which means "snail" in Spanish) National Monument and Archeological Site is located in the heart of the Chiquibuil forest. The ruins of huge ancient city, once covered 200 square kilometers. These ruins are dominated by Caana, the "sky palace," Caracol's largest temple.
Lamanai, which translates to "submerged crocodile," is located along the New River Lagoon. One of the most astounding of the temples at this site is the Mask Temple. As its name implies, it is decorated with a limestone mask that measures over four meters high. The best way to arrive at Lamanai is by water. A boat cruise will take you along the winding river through spectacular forest. This trip will make you feel as though you have been transported back in time.
Xunantunich, which means "stone woman," sits on a limestone ridge over the Mopan River, just a stone's throw from the Guatemalan border. This ceremonial center boasts 25 temples and palaces and stunning views of the surrounding forest and rivers.
The La Milpa Archaeological Site, in northwestern Belize, is the third-largest archaeological site in the country. In 1996, a Mayan tomb was discovered at this site. It contained a complete human male skeleton wearing a jeweled necklace.
3. Second Largest Barrier Reef in the World
The Belize Barrier Reef is second in size only to Australia's Great Barrier Reef. It extends approximately 180 miles (300 km) along Belize's coast. It was declared a UNESCO World Heritage Site in 1996 and, according to the organization, "The unique array of reef types within one self-contained area distinguishes the Belize Barrier Reef Reserve System from other reef systems." Apparently even Charles Darwin declared it the "most remarkable" reef of all the West Indies. Snorkeling or scuba diving the reef is an amazing opportunity to explore the lively, underwater world that Belize has to offer. Colorful coral, rainbow-painted fish, sea turtles, eels, manatees and a host of other sea life await!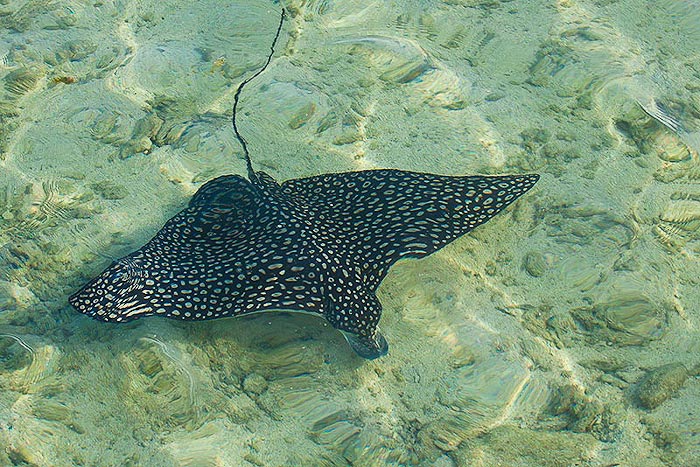 4. Mountain Pine Ridge
Established in the 1940s, the Mountain Pine Ridge Forest Reserve today encompasses roughly 430 square kilometers. Here, we can visit Belize's native pine and broadleaf forests. Any visitor to this area will be rewarded with sweeping views, caves (including the large Rio Frio Cave) and sinkholes to explore, babbling creeks, roaring waterfalls, and of course, breathtaking Mayan ruins.
For wildlife lovers who visit Belize, this area will not disappoint. It is home to some incredible large mammals including Jaguar and Baird's Tapir. It is also home to Belize's most iconic reptile, the Morelet's Crocodile. Birds also abound in this region. Some species you might hope to encounter include Rufous-capped Warbler, King Vulture, Violet Sabrewing, Rusty Sparrow, Red Crossbill, and so many more.
5. The Cayes
White sand, turquoise water, excellent seafood, stunning sunsets, and some amazing bird species await you in Belize's cayes (pronounced "keys"). Over 400 islands line Belize's Caribbean coast. While not all are easily reachable, there are several accessible islands that are well worth a visit. Whether you travel there by a short plane ride, or by boat, a visit will reward you with opportunities for adventure, relaxation, and nature immersion.
Caye Caulker is one of the most accessible of the cayes, and as a bonus, offers exceptional birding as well. In the mangroves, you can find Roseate Spoonbill, Reddish Egret, Clapper Rail, and Black-necked Stilt, and is one of the best places to see Rufous-necked Wood-Rail. Venture a little inland and you may see Gray Catbird and Golden-fronted Woodpecker. During migration, this is a wonderful spot to observe migrating warblers. If you venture a little further off the beaten path to Glover's Reef, Half Moon, or Man O' War Caye, you may be rewarded with large colonies of Magnificent Frigatebird, and Red-footed and Brown Boobies.
6. Crooked Tree
The Convention on Wetlands declared Crooked Tree Wildlife Reserve a RAMSAR site in 1998. Over 16,000 acres, the sanctuary encompasses lagoons and marshes, pine savanna, and broadleaf forests. It is home to hundreds of resident and migratory bird species. The charming town is lush with native vegetation and private gardens that attract a number of birds. But the true highlight of a visit here is a boat ride on the lagoon itself. Here you will be able to get some amazing views of a number of incredible bird species. A few species we can encounter here are White Ibis, Jabiru, Woodstork, Anhinga, American Pygmy Kingfisher, Gray-cowled Wood-Rail, and Boat-billed Heron.
7. Yucatan Specialties
There is a small group of birds found mainly in Mexico's Yucatan Peninsula. However, thanks to Belize's close proximity, we can find many of these birds in parts of Belize as well. A good place to begin one's search for Yucatan specialties is at the Crooked Tree Reserve. It is one of the best places in Belize to find the threatened Yellow-lored Parrot, Yucatan Woodpecker, and Yucatan Jay. A quick 40-minute boat ride from Belize City will take you to Caye Caulker. Here you can find Yucatan Vireo, Orange Oriole, and Black Catbird.
Further inland is the Rio Bravo Conservation Area. It is part of the second-largest protected area in the country. Here, one can hope to get excellent views of Ocellated Turkey meandering along the roads that crisscross the dense tropical forest. We can see Yucatan Poorwill and Yucatan Nightjar after dark.
8. Cockscomb Basin
Cockscomb Basin Wildlife Sanctuary was established in 1986 and protects nearly 400 square kilometers of forest. It is one of the most important sites for Jaguar conservation in the world. Located in the Stann Creek District of Belize, its spectacular rivers, waterfalls, flora, and fauna make it one of Belize's premier destinations. Here we can find a plethora of mammals, reptiles, and amphibians, and over 350 bird species have been reported. Stripe-throated Hermit, Black-cheeked Woodpecker, Lesson's Motmot, White-collared Manakin, and Montezuma Oropendola can all be seen here. One of the highlights of a trip here is observing the loud and colorful Scarlet Macaws that call this area home.
9. The Waterfalls
People who visit Belize are often amazed at the multitude of waterfalls in the country. And while waterfalls, both big and small, do abound in the river-rich country of Belize, one stands out in particular. The Thousand Foot Falls, is located in the heart of the Mountain Pine Ridge Forest Reserve. It is believed to be the tallest waterfall in all of Central America. The waterfall begins at the edge of an expansive pine forest and then plunges into the dark, broadleaf forest below. King Vulture Falls is another impressive waterfall in the area. It is named for the large number of King Vultures that congregate here. They come to its pools to bathe and soar the skies above it.
10. Belize Zoo
The Belize Zoo is located less than 30 miles from Belize City. It is known as the "best little zoo in the world". Sharon Matola founded the zoo and she continues to run it to this day. The Belize Zoo is unique in that it only houses animals native to Belize. Many of the zoo's inhabitants have been rescued and are in need of rehabilitation. Others were born right at the zoo. Today, over 120 native animals including Ocelot, Margay, Black Howler Monkey, Collared Peccary and, Baird's Tapir call the zoo home.
The zoo grounds themselves encompasses just under 30 acres of tropical savanna. It is a great place to get in some observations of wild birds passing through, as well. The zoo's efforts in environmental education, conservation, and wildlife rehabilitation have made a big difference in conservation in Belize. Their contribution to Harpy Eagle reintroductions and Jaguar conservation are just some of the projects they have worked on over the years. If you visit Belize, we highly recommend a stop at the Belize zoo.
There you have it, our list of the Top 10 reasons we love to visit Belize. Contact us to learn more about our tours to Belize and this amazing country.