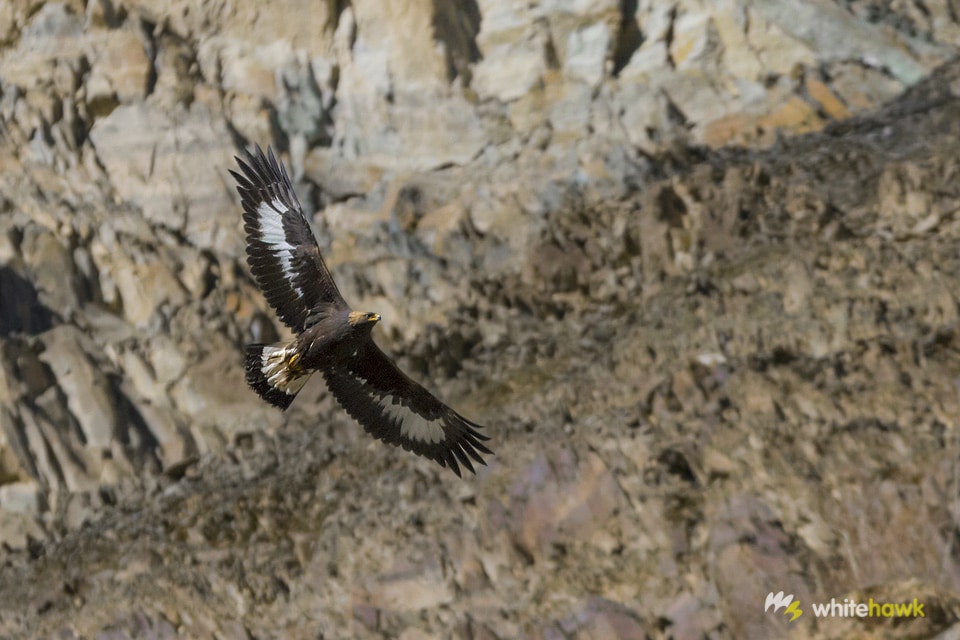 The following morning, our Snow Leopard trip continued when camp staff woke us up and served us cups of steaming hot tea in our tents. This went a long way in easing the transition from our warm sleeping bags to the cold morning air. We leisurely got dressed and enjoyed a hearty breakfast before beginning our trek into a nearby valley in the hopes of spotting a Snow Leopard. Stanzin and Gyalson, our local trackers, had already been up for quite some time. They were searching for tracks and talking with locals to learn of recent leopard movements. They also look for the rare cat's favorite prey – the Blue Sheep.
Over the next few days, we hiked through some incredible terrain. The beautiful starkness of the landscape, the impossibly blue sky and the jagged snow-covered peaks are sights we won't soon forget. Though we did not see a Snow Leopard in these first few days, we were not disappointed with the wildlife we were lucky enough to see. We observed three Golden Eagles on the cliff above our camp feeding on prey. A fox meandering slowly along the river bank until it caught sight of us and scrambled off up a hill. We watched brightly colored Bearded Vultures soar low above us. An obliging Pika feeding on small leaves that had fallen between the rocks allowed us to photograph it. Glimpses of Hares and Chukars hiding in the brush ensured us of the presence of wildlife in these rugged mountains.
Blue Sheep – A leopard's delicacy
Perhaps the most impressive sighting, however, occurred on our fourth morning. We had been following Snow Leopard tracks for about a half hour, and had just crossed a small stream. Our group crested a low hill, and came upon a large herd of Blue Sheep grazing nearby. We stopped, certain that they would run from us. But they didn't. We slowly made our way toward them and sat and watched. We were able to observe them for almost an hour as they calmly grazed, meandered and rested in close proximity to us. They seemingly unconcerned with our presence.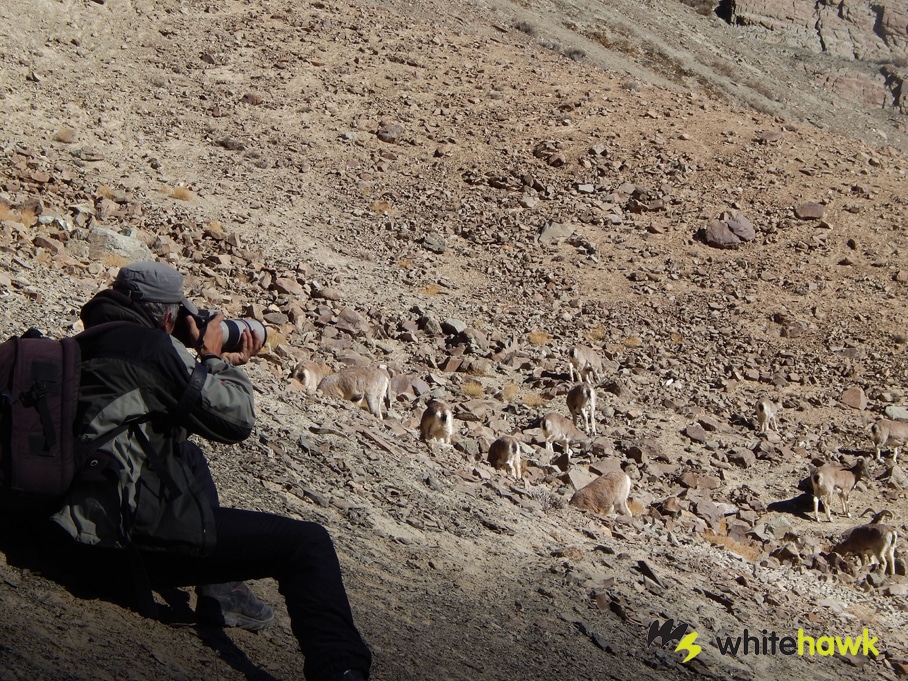 It was a magical experience being so close to this impressive species and imagining that nearby, perhaps there was a Snow Leopard who, based on her tracks, had walked this same path not long before us, and who too, may have stopped to observe the herd.